Did you make any New Year's resolutions this year? If you did, and you're finding it hard to stick to some of them, then maybe this can be an inspiration. West Vancouver's Don Rutledge, who is better known for his involvement in race cars, the hospitality industry and investment portfolios, made a pledge last year. It was time to give something back to himself, and others. So he started to train, and with the help of some very influential friends, he qualified for the ING New York City Marathon. It was time for his friends to pay up on the bet – a bet that helped raise money for a very worthwhile cause – the Zajac Foundation for kids.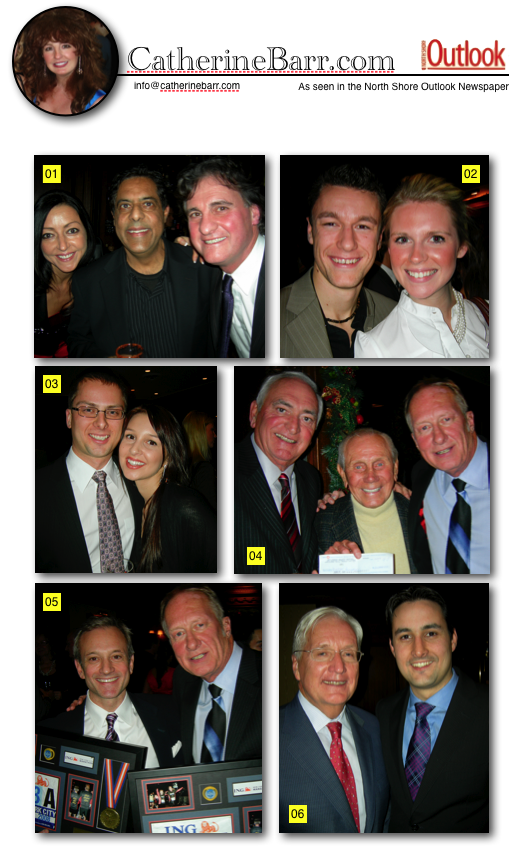 01 – West Vancouver's Nicole Dobernig, left, Fareed Pirani and Don De Cotiis came out to Hy's  restaurant to congratulate Don. 02 – Athlete Sean McNeill and West Van's Jody Rebak were among the invited guests. 03 – Don's son David Rutledge, seen here with wife Tess, has retired from the race car circuit but still cheers for dad. 04 – Former West Van MP John Reynolds, left, presents a cheque for $50,000 to Mel Zajac and Don for a job well done. 05 – Posing with their medals, badges and more, friend Al Peretz helped Don Rutledge go the distance. 06 – West Vancouver's Ian Thomas and son Trevor are among the supporters who came out to the Hy's party.
December 15, 2008 (published Jan 15, 2009)

Catherine Barr's column appears every Thursday in the North Shore Outlook – 60,000 copies delivered to homes in the North Vancouver and West Vancouver area If you wish to submit an event for coverage please fill in the form found here or email Cat at info@catherinebarr.com.