It's from Paris. It's white. And it's all a big secret until an hour before it happens. Le Dîner en Blanc, a specialty dining extravaganza originally imported from France, is quickly becoming a world-wide phenomenon. But this members only invite celebration is a visually stunning spectacle to behold. Held in Vancouver this past week, this second annual gathering was the most perfect posh picnic in the history of Vancouver. The rules are strict; wear white, bring white tables and chairs, and pay attention to your team leader. And if you don't show, you are persona non grata for next year. This year's event attracted over 2,500 people who signalled the start of dinner by waving their napkins high in the air outside on the lawn at the Science World secret location. Then there was music, conversation, food and flirting. It all ended shortly after dark as guests lit their sparklers en masse to salute a perfect evening of swanky socializing. As for the after-party – we'll that's another story – wink.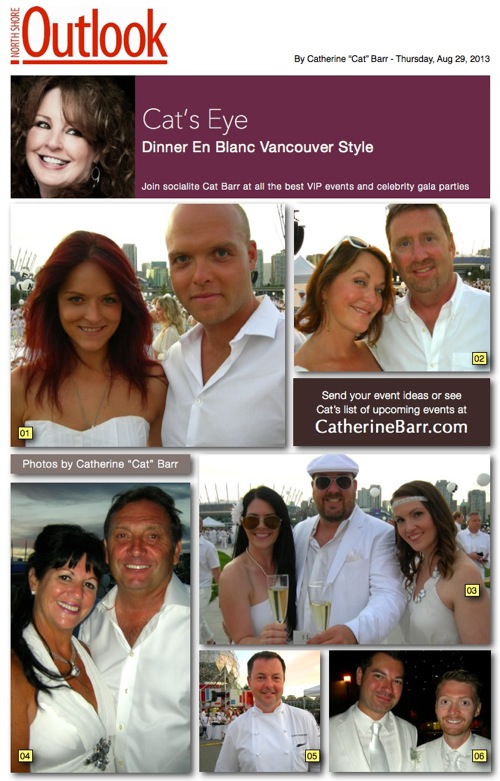 01 – They're West Vancouver's amazing brother/sister team. Ania and Adam Taubenfligel represent two thirds of the Triarchy fashion label (along with other brother Mark – missing from photo) and have helped put Vancouver on the map with their designer denim pieces.
02 – West Vancouver's David Campbell and Tammy Preast could have sailed right up to the door of Science World in one of his Freedom Marine yachts. But like everyone else, they didn't know the location of the secret dinner until the last minute.
03 – Chris Breikss, of 6s Marketing fame, proposes a champagne toast to the occasion with wife Kyla, left, and group leader Kristen Schreiner.
04 – West Vancouver's Lenora Gates and Bob Repchuck make it look elegant and easy by packing a custom trolly with their table, chairs, food and linens. Smart!
05 – Helping serve up custom dinner order options for those without picnic baskets, signature chef David Hawksworth keeps it fancy and al fresco.
06 – Social Concierge's Tyson Villeneuve, left, and Jordan Kallman are known for their razzle dazzle style and larger-than-life events. They are credited with bringing Diner en Blanc to Vancouver.
– – –
By Catherine Barr – Aug 22, 2013
Also as seen in print in the North Shore Outlook Newspaper on Aug 29, 2013
– – –

– – –