Champagne, hats, fascinators, cigars and horses. The Deighton Cup, held last weekend at Hastings Park, was truly the best looking event of the summer. Billed as a "good old fashioned day at the races", this three-day event included a Friday night "Big Smoke" cigar lounge and Sunday afternoon "Julep" day. But the big Saturday event – entitled "Thoroughbred" – was a stylish feast for the eyes as Dapper Dans and pretty ladies everywhere went the extra mile to win, place and show off their best couture looks and millinery masterpieces. Thank you Deighton Cup for dressing up Vancouver – we've never looked sooooo good!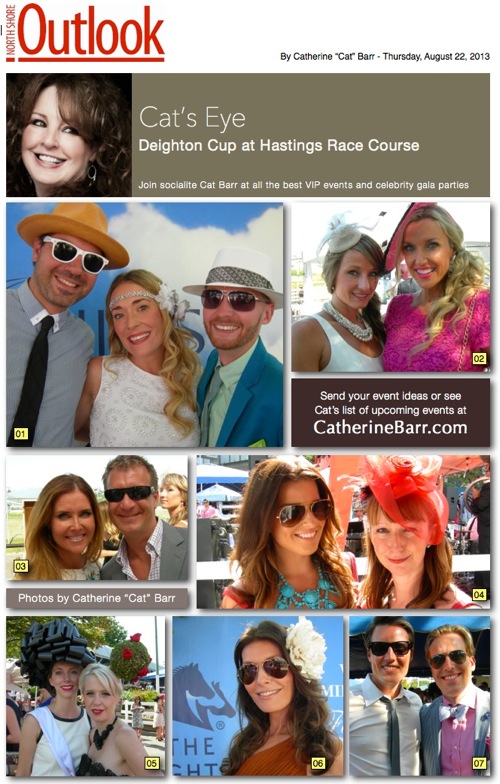 01 – Social Concierge's Tyson Villeneuve, left, and Jordan Kallman team up with Mediatonic's Heather Oliver to help make the magic happen behind the scenes at Deighton Cup.
02 – Looking chic in white and pink, Eileen Buck, left, and West Vancouver jazz singer Amanda Wood make the scene.
03 – Sipping Veuve Cliquot champagne in the tent by the track, Heidi Carton and hubby Larry Rahn toast the day.
04 – It's matching red dresses for the win as AJ Woodworth, left, and West Vancouver's Christine Baracos watch the post parade.
05 – Two of the most spectacular hats of the day! Kelsey Klassen, left, took over 10 hours to make her black ribbon bouffant while milliner Dominique Hanke's garden topiary topper turns all heads.
06 – Flowing dresses and big fancy flowers were the order of the day as proven by West Vancouver talent agent Michelle Gauvin.
07 – Hoping for the inside track, Jeff Meurising, left, and West Vancouver realtor Jesse Dean Cook pick their winning ponies.
– – –
By Catherine Barr – Aug 10 2013
Also as seen in print in the North Shore Outlook Newspaper on Aug 22, 2013
– – –

– – –