It has to be one of the most colourful and fashionable events in Vancouver. Add in the bow ties, fanciful hats, champagne VIP lounge, luxury cars and horse racing and it's easy to see why it's also one of the hottest parties of the summer. The Deighton Cup, produced by the good folks at The Social Concierge, was held last weekend at Hastings Park. Local celebs and socialites were easy to find as they placed their bets from luxury sky suites adjacent to the track. Live music, savoury snacks, cigars and mint juleps rounded out the experience. Congrats to everyone involved.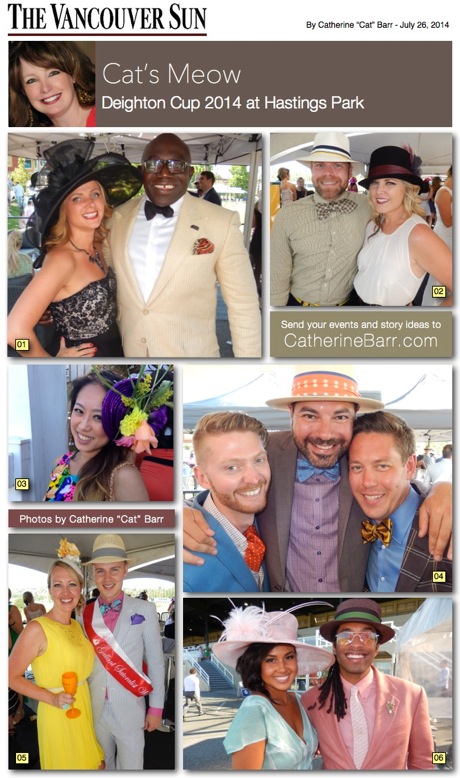 – – –
01 – Glitter gal and stylist Crystal Carson poses with David Bentil, supplier/sponsor of luxury cars and owner of Miles End Motors.
02 – PR pros Steven Schelling and Kate MacDougall of Camber Communications work the VIP tent.
03 – Beautiful Annabella Chen, who works at West Van Florists, wore a stunning headpiece made of real flowers.
04 – They're the men behind the magic. Social Concierge's Jordan Kallman, left, Tyson Villeneuve with Dax Droski of Cocktails and Canapes catering.
05 – Bobbie Long, from Baracos and Brand, helped style David Hennessey who won best male costume.
06 – Prevail, (aka Kiley Hendriks) of Swollen Members music fame, poses with the beautiful Keilani Jung.
– – –
By Catherine Barr – July 26, 2014
Also as seen in the Vancouver Sun Newspaper
– – –
By Catherine Barr




www.CatherineBarr.com  |  www.WestVancouver.com  |  www.NorthVancouver.com
– – –