Just sit right back and you'll hear a tale . . . Gilligan's Island actress Dawn Wells was just one of the main draws this past weekend as the Vancouver International Boat Show set up shop at both BC Place and Granville Island. Known for its luxury yachts and famous faces, the four-day event attracted hundreds of water loving enthusiasts and outdoor fans. Also, last week marked the 4th Annual Scotiabank Vancouver Canadians Hot Stove Luncheon. Baseball greats Roberto Alomar and Fred McGriff were the guests of honour at this fun fundraiser which helps raise money for their "Building Community Through Baseball" campaign in support of young baseball fans ages 5-10.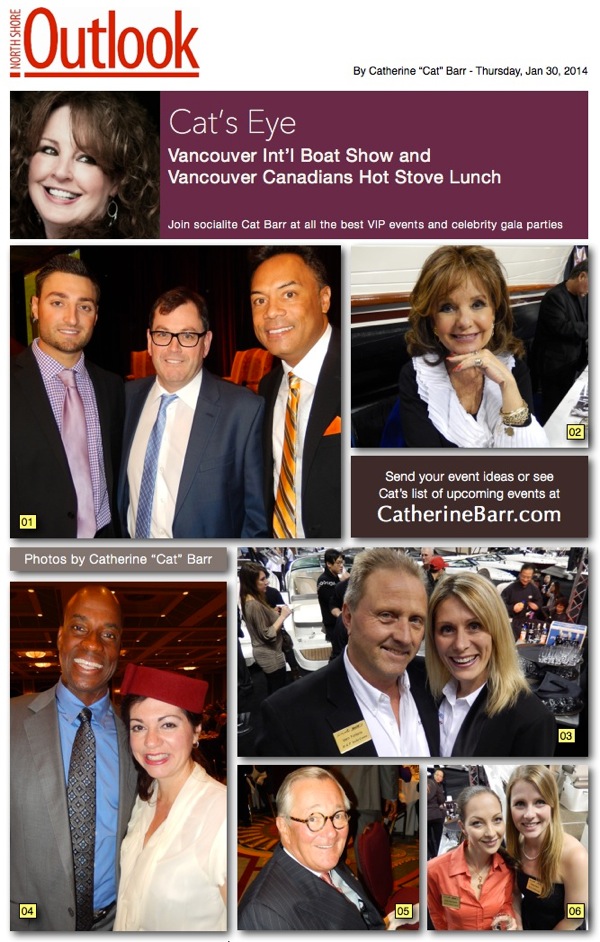 – – –
01 – Vancouver Canadians' player Kevin Pillar, left, has a good chance of making the Toronto Blue Jays roster this year. This day, he enjoys lunch with Vancouver Canadians Baseball League commissioner Bill MacLagan, centre, and former Blue Jays player and MLB Hall of Famer Roberto Alomar at the Hot Seat Lunch.
02 – No doubt about it, everyone loves Mary Ann. Gilligan's Island star Dawn Wells is easily the most adored item at this year's boat show. And at 75 years young, she is still as sweet and beautiful as ever.
03 – Putting on the ritz for an exclusive after-hours boat show cocktail reception are M&P Yacht Centres' Vern Fontana and general manager Jaye-Lynn Gooch.
04 – Jana MacLagan gets a cuddle from Blue Jays hero Fred McGriff as he gets ready to answer questions from the audience at the Hot Stove Luncheon.
05 – Vancouver Canadians co-owner and managing general partner Jake Kerr looks dapper as always as he takes the stage to welcome guests to the Hot Stove Luncheon.
06 – Taking guests for a tour of M&P Yacht Centres' $1.5 million dollar yacht, complete with accompanying silver Ferrari, Anya Morozova, left, and Esther Reich look after the VIPs.
– – –
By Catherine Barr – January, 23 & 24, 2013
Also as seen in print in the North Shore Outlook Newspaper on Jan 30, 2014
– – –

– – –