Stars and cars, sexy tech and some of the finest piano craftsmanship in the world are all stories that help build up this week's excitement and Olympic countdown fever. First, Olympic sponsor General Motor's (GM) new electronic Chevy Fuel Cell Equinox vehicles have arrived. Keep your eyes peeled because this emissions-free fleet's duty is to get A-Listers, like David Hasselhoff, around town in style. Next, hip and hot, the gang at FCV Technologies celebrates at their five year anniversary party. And lastly, old world perfectionism and music are the topics of a special lunch honouring visiting craftsman Paolo Fazioli.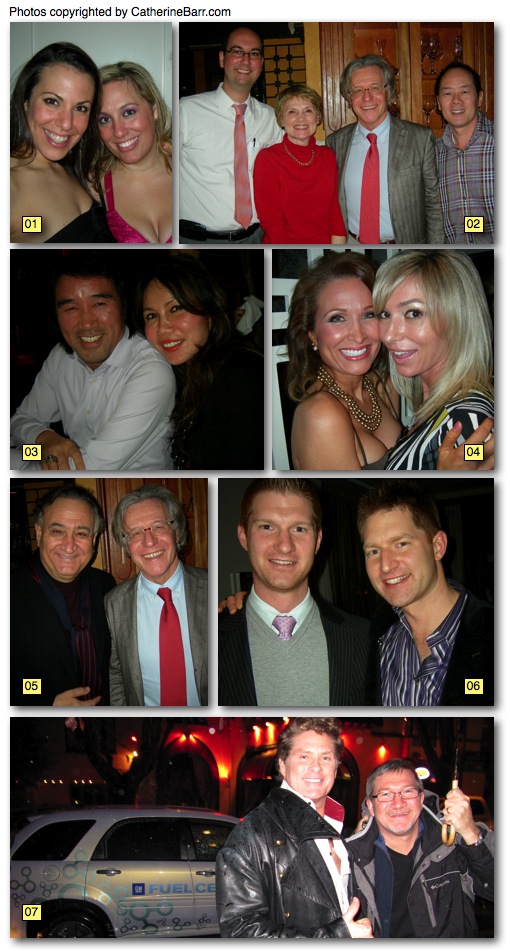 01 – Helping arrange the sexiest part of the party at the FCV Technologies anniversary are PR gals Whitney Stanford and Alicia Mann.
02 – Manuel Bernaschek, left, joins guest Rita Addison, owner Paolo Fazioli and musician Lester Soo at a special luncheon in honour of the visiting craftsman himself.
03 – West Vancouver's Graham and Angela Lee, who were instrumental in bringing the first live Sarah McLachlan Summer Sessions concert to West Vancouver this past summer, are among the VIPs at the Fazioli luncheon.
04 – NBC host/model Graison Foster-Stemper, left, and guest Marcia Bettina celebrate with the FCV Technologies gang in the Penthouse of the Loden hotel.
05 – Always primo, chef/host/restaurateur Umberto Menghi lavishes fine food and hospitality on the guest of honour and his party, piano maker Paolo Fazioli.
06 – They're young, hip and hot on the path of success. Mark and John Starkey are the main men behind FCV Technologies and include names like Rocky Mountaineer and TransLink on their client list.
07 – GM driver Angela Case takes care of actor David Hasseloff and producer John Han, right, as they scoot around from the set of their Dancing Ninja shoot here in North Vancouver.
– By Catherine Barr
– –
Published in print by the North Shore Outlook / Black Press on Jan 21, 2010