I scream, you scream, we all scream for . . . Okay, it's not ice cream exactly, but according to hundreds of teenage girls, it was definitely worth screaming about. Last week, Pinkberry frozen yogurt opened it's first ever store in Canada in West Vancouver at The Village at Park Royal Shopping Centre. The hip West Hollywood treat, popular with movie stars like Lindsay Lohan, also caused a big stir by bringing along local actor and "Glee" TV heartthrob Cory Monteith. Monteith and his band Bonnie Dune played two sets and signed autographs to the squealing delight of star struck teens. Also last week, the North Vancouver Chamber held their Summer Soiree evening at Seymour Golf and Country Club. It was a chance to welcome new members, celebrate milestones and introduce new board members for the upcoming year.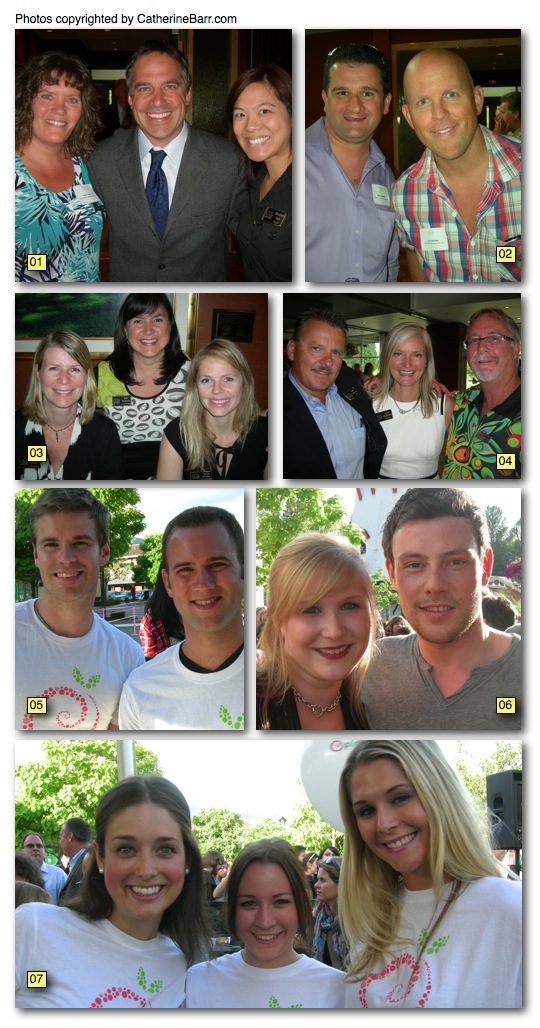 01 – Paige Larson, of North Shore Sports Medicine, left, and chamber director Elizabeth Mah chat with North Vancouver City mayor Darrell Mussatto at Summer Soiree.
02 – Crosby Property Management assistant GM Bruce Adanac, left, socializes with renovations/contractor businessman Joe Heilman at Summer Soiree.
03 – North Vancouver Chamber of Commerce staffers Misha Wilson, left, Gail Pickrell and Tanya Brown greet guests at the front door for Summer Soiree.
04 – North Vancouver Chamber of Commerce chair Mike Boehm, left, administrator Anne McMullin and event sponsor Digby Leigh celebrate summer at the Seymour Golf and Country Club soiree event.
05 – Pouring the champagne at the Pinkberry/Cory Monteith opening are Jeff Hopkins, left, and Jason Perry.
06 – Park Royal Shopping Centre marketing and events coordinator Alicia Fruhm gets a cuddle from Glee star Cory Monteith during the Pinkberry opening party.
07 – Pinkberry girls Becky Caissie, left, Bobbi Stremel and Mallory Oudendag hand out samples of coconut, mango, chocolate and watermelon during the Pinkberry/Cory Monteith opening party.
– –
By Catherine Barr – July 21, 2011
Also as seen in print in the North Shore Outlook Newspaper on July 28, 2011