It was a special start to the New Year at the River Rock Casino show theatre as retro rockers Foreigner took to the stage with a group of very special West Vancouver kids. Collingwood School music students were granted a special audience with the "Hot Blooded" chart toppers who, judging from the crowd, are still capable of raising the roof with old and new songs from their special CD release. Helping to raise money for East Vancouver school music programs, the Collingwood kids helped sell the CDs, and then, joined Foreigner live on stage to provide the famous choral background to their famous "I Wanna Know What Love Is" top ten hit. It was a standing ovation for all involved. Also, last week, it was time to toast the start of a new radio season with the AM650 / Virgin Radio gang. Every Tuesday morning at 8:50a I get to spend some time with these great people chatting live on the air about North Shore events, so here's a little cheers to you and all you do.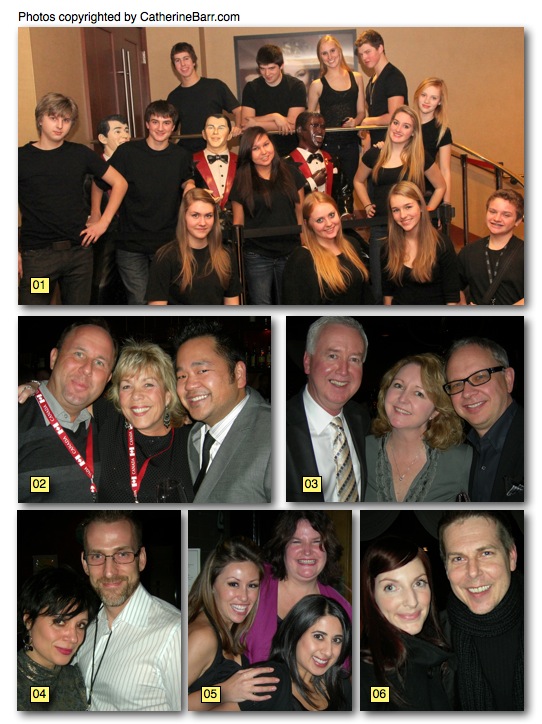 – –
01 – West Vancouver's Collingwood School students get a standing ovations from the crowd for their fabulous on stage performance of "I Wanna Know What Love Is" with international rock stars Foreigner.
02 – AM650 morning show man and radio veteran Gerry O'Day, left, cuddles up to personality Casey White and producer Art Factora at the station's holiday party.
03 – Radio exec Stu Ferguson, left, greets Astral Media VP/GM Brad Phillips and wife Charlotte to the holiday party.
04 – Virgin Radio's morning gal Nat Hunter takes some time to enjoy dinner with hubby Brett Simms at the holiday party.
05 – These girls always just wanna have fun. Keeping it real, live on the air every day are North Van's Taylor Jukes, left, newsgirl Erin Davis and Simone Grewal.
06 – Seen here with guest Georgia Nick, producer Paul Sereda is in charge of making us all "sound" good behind the scenes at AM650. Thanks Paul.
– –
By Catherine Barr – Jan 8, 2011
Also as seen in print in the North Shore Outlook Newspaper on Jan 13, 2011