It's where the stylish go to see and be seen. The annual Brian Jessel Cabriolet Gala is one of this city's most prominent fundraisers and it's well known for high fashion, fast cars, beautiful people and celebrity entertainment. As always, many North Shore faces were among the crowd on this 8th anniversary contributing as both sponsors and supporters. Burlesque dancers and go-go girls helped warm up the room before the live auction. Fabulous food, supplied by many of Vancouver's leading restaurants, was served during the reception which also included a silent auction. Then it was time to clear the stage for up-and-coming singer Rosette who was followed by headlining musician Colin James. All funds raised go to support the Canadian Cancer Society.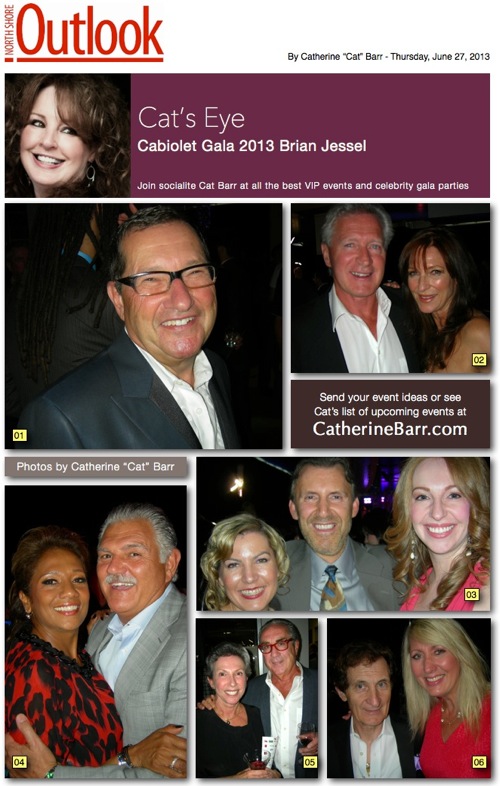 – –
01 – In the past he's hosted Jay Leno, CeeLo Green and more. Congratulations to Brian Jessel on putting together another famously successful Cabriolet Gala year.
02 – He's a hockey scout and she's been seen on The Real Housewives of Vancouver. BJ and Lisa MacDonald socialze with friends during the cocktail reception.
03 – North Vancouver's Franco Luongo cuddles up to Allison Nourse, left, and Luba Sasowski as guests get ready to bid on live auction items.
04 – Always generous, gala sponsors Paul and Devina Zalesky, of AllWest insurance fame, are caught dancing to the rockin' tune of headliner Colin James.
05 – Mike and Leslie Rogers sample some of the goodies offered by Joe Fortes, Hy's Restaurant and more during the pre-show reception.
06 – West Vancouver's Lionel Lorence is introduced to PR power gal Diana Zoppa as guests begin to arrive for the big show.
– – –
By Catherine Barr – Jun 15, 2013
Also as seen in print in the North Shore Outlook Newspaper on Jun 27, 2013

– – –