Vancouver's newest skyscraper, The Shangri-La Hotel, opened it's doors to the public last week. The multi- million dollar marvel is sure to wow visitors and locals alike as it attracts big name celebs and chefs to its doorstep. But thanks to socialite Christy King and 50 of her fabulous lady friends, the gals got a chance to see things prior to opening night and to share in a fundraiser that goes to support kids and the United Way.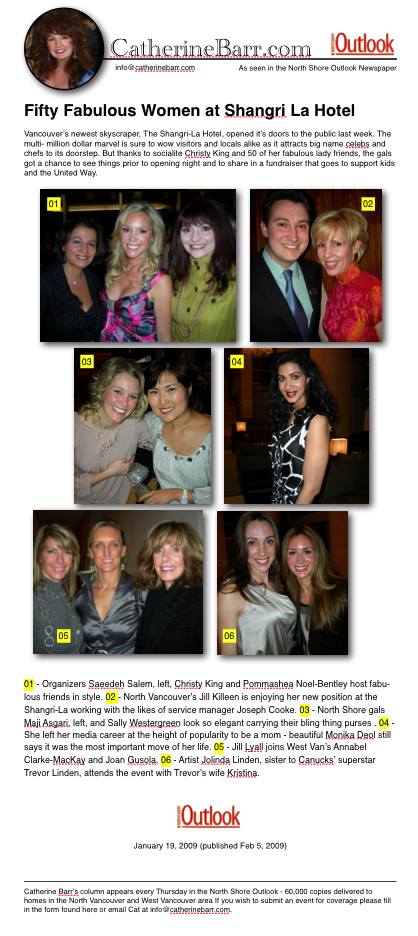 01 – Organizers Saeedeh Salem, left, Christy King and Pommashea Noel-Bentley host fabulous friends in style. 02 – North Vancouver's Jill Killeen is enjoying her new position at the Shangri-La working with the likes of service manager Joseph Cooke. 03 – North Shore gals Maji Asgari, left, and Sally Westergreen look so elegant carrying their bling thing purses . 04 – She left her media career at the height of popularity to be a mom – beautiful Monika Deol still says it was the most important move of her life. 05 – Jill Lyall joins West Van's Annabel Clarke-MacKay and Joan Gusola. 06 – Artist Jolinda Linden, sister to Canucks' superstar Trevor Linden, attends the event with Trevor's wife Kristina.

January 19, 2009 (published Feb 5, 2009)
Catherine Barr's column appears every Thursday in the North Shore Outlook – 60,000 copies delivered to homes in the North Vancouver and West Vancouver area If you wish to submit an event for coverage please fill in the form found here or email Cat at info@catherinebarr.com.