It's official today! Warner Brothers' summer smash hit "The Dark Knight" has now become only the second film in history to top the half-billion dollar mark in US cinemas. Starring sexy Christian Bale, who cruises Gotham City in a racy Lamborghini Murcielago LP640 Coupe, the legend of Batman and his awesome automobiles has now been re-written for good.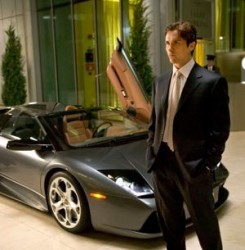 When millionaire Bruce Wayne first geared up the Batmobile to fight crime on television in 1966, he did it in a 1955 Ford concept car called the Lincoln Futura. The body, which was originally designed by legendary Italian automobile designer Ghia, was given the star treatment by Hollywood custom car man George Barris only three-weeks before filming began.
But still, the Lincoln failed to live up to its Futura expectations. Dead batteries, an overheated engine and blown tires left Batman feeling more like the Joker than the hero. Still, it came optioned to the hilt with a superhero package that included nose-mounted chain slicer, lasers, rockets, an on-board telephone, radar, an on-board computer, two parachutes and a nail spreader to prevent pursuits. The car officially ended its career in 1968 with the cancellation of the television series.
In 2008, it's clearly a different story as the new Bruce Wayne prefers much more horsepower under the hood – 640 horsepower in fact. But sometimes even a Lambo doesn't make the scene. Enter the new Bat-Pod, a motorocycle-ATV hybrid that defies even special effects movie technology.
Borrowing the front wheels off of the 2005 Batmobile, and a few spare parts from Home Depot's plumbing department, production designer Nathan Crowley and director Chris Nolan gave new meaning to the term DIY (do-it-yourself). Their design team rose to the challenge and, as evidenced by the high ratings and high praise, have managed to expand on history and create yet another iconic Batman/Batmobile combo that will be talked about for years to come.
The Dark Knight is playing in cinemas now and stars Christian Bale, Heath Ledger, Morgan Freeman, Michael Caine, Gary Oldman, Aaron Eckhart, Maggie Gyllenhaal, Eric Roberts, Anthony Michael Hall and Nestor Carbonel.
– as published by Canadian Auto Press on September 3, 2008