The Children's Wish Foundations of Canada, BC and Yukon Chapter, held their inaugural gala this past week in spectacular surroundings at the Vancouver Art Gallery. Entitled simply "Wish", the night was a wonderland of light and glamour as invited guests enjoyed pre-dinner cocktails and canapes in the gallery's top floor terrace. After it was time to proceed downstairs for an elegant dinner by Hawksworth Restaurant. Live and silent auction items helped round out the night which raised over $80,000 which will go towards granting extra special wishes for children and their families.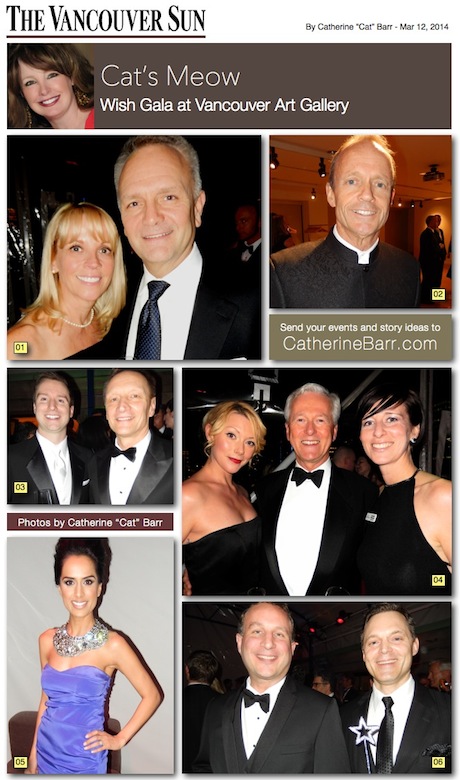 – – –
01 – John MacPhail, seen here with wife Karen, of Global Securities Corporation.
02 – Former politician and federal leader of the Canadian Alliance party Stockwell Day is among the VIP guests.
03 – Adam Garvin, left, with visiting Children's Wish CEO Chris Kotsopoulos.
04 – Event chair and vice chair of Children's Wish BC & Yukon's Lana Bradshaw, left, board chair and Blue Cross CEO Jan Grude and director Jennifer Peterson.
05 – Dressed in sparkling jewels, Sonia Beeksma plays MC for the evening.
06 – Steve Vestergaard, left, of Destiny Media Technologies with Brock Daem of Global Securities Corporation.
By Catherine Barr