Set your senses on stun because Cavalia's Odysseo is a spectacle to behold. Dubbed a Cirque du Soleil with horses, this event is a must see for the holiday season. With scenes that shift from the magical and dreamy to high energy shows of strength, this is animal magnetism at its best. There's also a finale that you have to see to believe. Last week marked the grand opening night and the tent was filled with the who's who of the Vancouver scene. Actors, media personalities and dignitaries were treated to the VIP treatment inside the Rendez-Vous lounge complete with full dinner buffet, champagne, wine, dessert and more. It's a night to remember that you too can partake in via the VIP package experience. And don't forget to visit the stables after the show for a close-up meeting with Vancouver's newest and fanciest "neigh"-bours.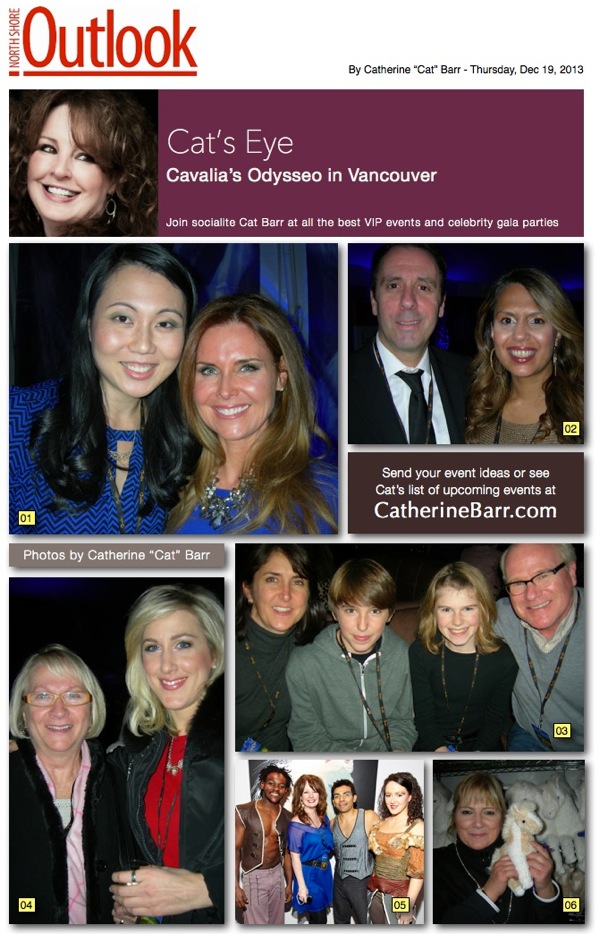 – – –
01 – CBC's Miyoung Lee, left, is seen in the VIP tent with friend Heidi Carton.
02 – CTV movie critic and Travel Guys star Jim Gordon chats with Joti Samra before the start of the show.
03 – It's a great show for families as Capilano University registrar Karen McCredie and husband/writer Andrew McCredie look forward to a tour of the stables with son Callum and daughter Grace.
04 – Global TV news anchor and North Vancouverite Anne Drewa brings along mom Terrie for a night of VIP treatment.
05 – I never miss a chance to horse around with the stars of the show. Cast members, riders and acrobats take photos with the crowd in the Rendez-Vous lounge.
06 – VIP hostess Julie Shaw makes sure everyone goes home with a souvenir.
– – –
By Catherine Barr – Dec 10, 2013
Also as seen in print in the North Shore Outlook Newspaper on Dec 19, 2013
– – –

– – –