It's a natural wonderland throughout the year, but at Christmas, this place really shines. Capilano Suspension Bridge, known worldwide for its famous heights, is all decked out for the season. The Canyon Lights display, which has over 250,000 lights throughout, is a great place for families. Running until Jan 2, an evening here can also include a visit with glass blower Malcolm McFadyen, live music from the "Holiday Band", hot chocolate, gingerbread and more. Funds collected go to support the BC Professional Fire Fighters' Burn Fund.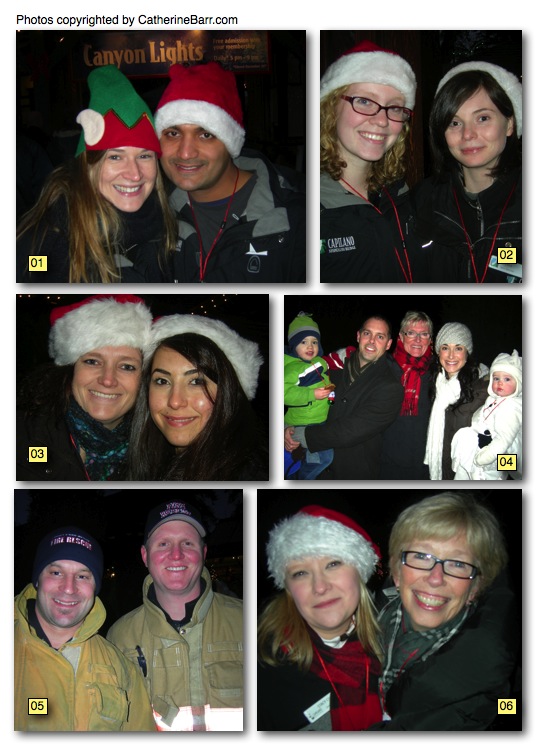 – –
01 – Operations Manager Christina Simpson and Assistant Operations Supervisor Sahil Pancholi greet guests at the front doors on opening night.
02 – Helping everyone find their way through the trees and trimmings are staffers Caitlin Mann, left, and Bryana Gaffney.
03 – Handing out glow in the dark Santa necklaces to all the kids on opening night are Group Sales Manager Helen Hall, left, and assistant Tarlan Seyedfarshi.
04 – Cap Bridge owner Nancy Stibbard, centre, and her family were all out on this night to see the lights come on for the first time this season.
05 – North Vancouver District fire fighters Jared Ewart, left, and Grant Smith collect donations for the BC Burn Fund.
06 – Communications Manager Stacy Chala, left, and Vice President Sue Kaffka get ready to do the countdown with the crowd on the first night of magical lights.
– –
By Catherine Barr – Dec 2010
Also as seen in print in the North Shore Outlook Newspaper on Dec 23, 2010