Time is something we all take for granted – but for a sick child, time is the most precious gift of all. The Canucks Place Children's Hospice – Gift of Time Gala celebrated their fourth annual event last week at the Westin Bayshore in Vancouver. Always special, the beautiful ballroom was decorated to the nines and included special table centrepieces hand made by the children under the direction of artist Jolinda Linden, sister-in-law to Canucks superstar Trevor Linden. Business leaders, VIPs and supporters all gave generously to attend the star-studded evening that also included a special performance by surprise celebrity musical guest Chantal Kreviazuk.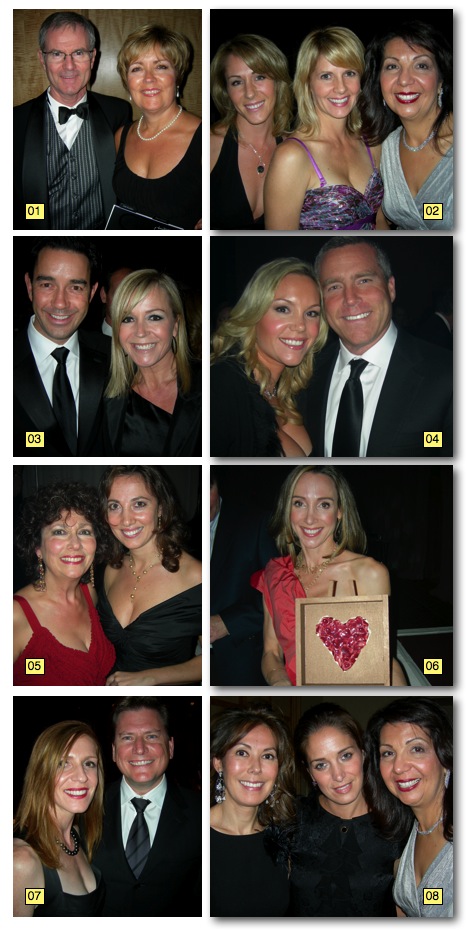 01 – Global TV VP Brent Manlove and wife Brenda, who also live in North Vancouver, are among the media executives who are happy to lend their support.
02 – Global TV weekend weather girl Kristi Gordon, left, and Global TV news anchor Jill Krop chat with West Vancouver's Filomena Nalewajek, Canuck's Place CEO. Jill was also MC for the evening.
03- As parents of four children of their own, West Vancouver realtor Jason Soprovich and wife Monica know how important it is to support the Canucks Place kids.
04 – Well known for their philanthropy, Christie and James King deserve congrats for recently welcoming number five to the family – a new baby daughter.
05 – The North Shore's own Carmelina Cusano, left, and daughter Marcella, of Montecristo Jewellers fame, are major sponsors of the night.
06 – Looking beautiful in red, artist Jolinda Linden, sister-in-law to Canucks superstar Trevour Linden, shows off one of the heart-warming table centrepieces that she and the children made for the big event.
07 – With donations totalling $1.3 million, Telus CEO Darren Entwistle also surprise everyone by donating the first Telus based iPhone for live auction, well ahead of their Nov. 5 public launch.
08 – Gala chair and West Vancouverite Sandy Elliott-Ergas, left, and Canucks Place CEO Filomena Nalewajek, right, welcome surprise musical guest Chantal Kreviazuk.
By Catherine Barr – October 29, 2009
Publishing in print by the North Shore Outlook newspaper on Nov 5, 2009