Champagne was flowing and glasses were clinking at the celebration launch of the Canadian Association of Professional Sommeliers (CAPS) in British Columbia. President Michelle Bouffard welcomed guests to the private room at Hawksworth Restaurant (in the Rosewood Hotel Georgia) and introduced the BC association and its board members. Wine experts alike agree that the new association will help bring big opportunities to the province and members are happy to now be affiliated with the prestigious Association de la Sommellerie Internationale (ASI) which is based in Paris. Members of the BC CAPS chapter will now also be eligible to compete in the Best Sommelier of the World Competition – as well as pouring you your favourite wines at all of Vancouver's best world-class restaurants.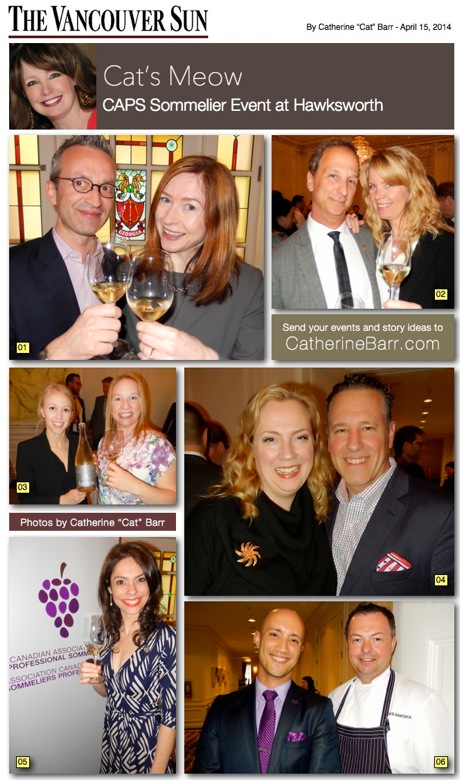 – – –
01 – Sebastien LeGoff, international relations for CAPS and Cactus Club wine director, toasts with MW Barb Phillip, who is a CAPS VP and also a buyer with the British Columbia Liquor Control and Licensing Board.
02 – Board member Mark Taylor, seen here with movie hair stylist Danna Rutherford, is in charge of CAPS events here in British Columbia.
03 – Alison Scholefield, left, of Haywire/OK Crush Pad chats with wine expert Leeann Froese of Town Hall brands.
04 – Sommelier Nessa van Bergen, of the Bon Vivant Group, cuddles up to husband/chef Dino Renaerts.
05 – With a toast to the future, CAPS president and WineGals owner Michelle Bouffard welcomes guests.
06 – Hawksworth GM Chad Clark, left, helps ensure a perfect event with chef David Hawksworth.
– – –
By Catherine Barr – April 15, 2014
Also as seen in the Vancouver Sun Newspaper
– – –
By Catherine Barr




www.CatherineBarr.com  |  www.WestVancouver.com  |  www.NorthVancouver.com
– – –