Country music, Bhangra drums plus celebrity chefs and wine helped wrap up the last week of Summer 2009. First up, the Canadian Country Music Awards (CCMA) brought big name singers to the city with a festival that included live concerts, fan parties and a fabulous live awards show that was broadcast across Canada. Next up, West Vancouver musician Ash Sood and friends were among the VIPs at a special private dinner to raise funds for the Bhangra International Festival Celebration. And when it comes to celebrating, no one does it better than the Wine of BC people with their annual Chef Meets Grape charity event in support of the Vancouver Aquarium's Ocean Wise program.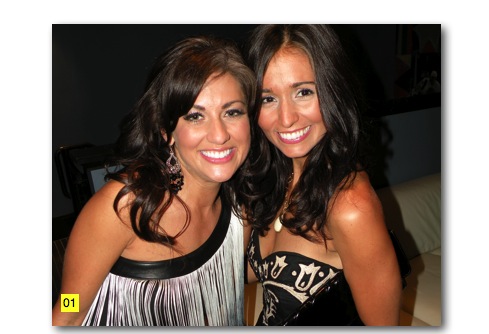 01 – Bachelorette Gillian Harris, seen here backstage with cousin Tori, was a presenter at the CCMA's and assures me that she and Ed are still going strong as she flashes her diamond ring.
02 – Calgary born country singer Paul Brandt walks the red carpet for the big CCMA after-party at the Hyatt.
03 – Glasgow born country singer Johnny Reid is having a great year as the biggest winner this night at the CCMA and it's only going to get better as his very pregnant wife is due to give birth later this year.
04 – Gabriele Durning, left, producer of the Backstage Gift Lounge at the CCMAs, made sure all the country superstars, like Terri Clark, get a chance to shop for their goody bags backstage.
05 – He's the North Shore's famous fishmonger. Kosta the Fishmonger shows his wares at the Chef Meets Grape event.
06 – La Terrazza chef Tim O'Brien, left, and Diva at the Met's Chef Dino Renaerts are two of the celeb chefs cooking up a storm at Chef Meets Grape.
07 – Vancouver Mayor Gregor Roberts and West Vancouver's Devina Zalesky of AllWest Insurance give their support to the Bhangra Festival dinner.
08 – Drummer/musician Ash Sood, left, dinner hostess Sandra Garossino and chef Vikram Vij, of Vij's fame, are among the VIPs at the Bhangra Festival invite-only charity dinner.
– By Catherine Barr
As published in the North Shore Outlook newspaper on September 24, 2009