Break out the barbecues, grab the family and head to the beach. At least that's how we roll over here on the North Shore on Canada Day. Those of us lucky enough to live here had more than a few celebrations to choose from including West Vancouver's John Lawson Park, North Vancouver's Waterfront and more. Morning parades, kids activities, live music, outdoor food and lots of flag waving were seen in parks all over. Happy 146th Birthday Canada!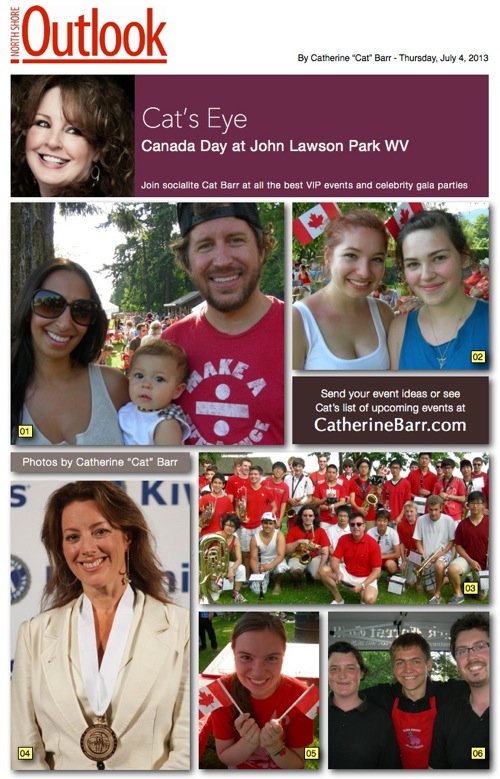 01 – Musician Adam Woodall is lucky enough to have two lovely ladies waiting for him after his performance at John Lawson stage, namely wife Nicole and baby girl Emerson.
02 – Taking in the parties at both North Vancouver's Waterfront Park and West Vancouver's John Lawson Park are Natasha Guerra, left, and Emily Walker.
03 – Strike up the band! The West Vancouver Youth Band takes to the stage under the baton of conductor and musical director Douglas Macaulay at John Lawson Park.
04 – As part of this weekend's ceremonies, West Vancouver's Sarah McLachlan is honoured at the 98th Annual Kiwanis International Convention with the service organization's highest award — the 2013 World Service Medal – for her dedication to music education. Congrats Sarah!
05 – West Vancouver's Hilary Drake donates her time to volunteer to hand out flags and pins and John Lawson Park.
06 – Brats and pretzels and sausages are sizzling on the grill thanks to the crew at Black Forest Deli. From left: Anita Picklmeier, Hans Bischoff and Daniel Hauthal.
– – –
By Catherine Barr – Jul 1, 2013
Also as seen in print in the North Shore Outlook Newspaper on Jul 4, 2013

– – –