Unique, artful and fun is the best way to describe "Bust – An Art Social". Hosted by Global TV weather girl Kristi Gordon and a flock of female friends, this tasteful and titillating evening featuring inspired artworks by artists from all over BC. A silent auction, live entertainment and dancing rounded out the night with all the proceeds going to the Canadian Breast Cancer Foundation. Next, it was time for the Hot Chefs, Cool Jazz event as Bocue d'Or candidate chef Ryan Stone took his bows at center stage amidst the many food and wine stations set up at the Vancouver Convention Centre. Funds raised here go to support Ryans' bid to compete with the best in January 2011.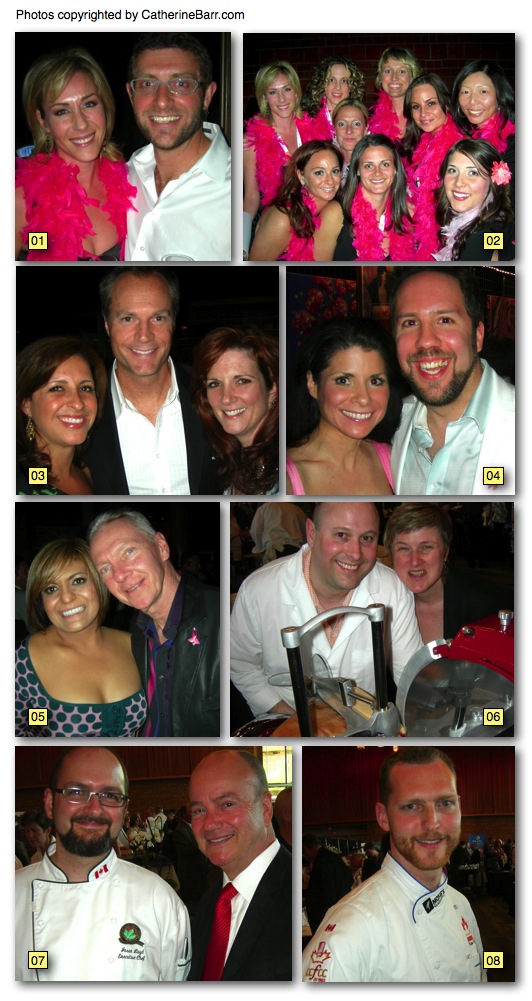 01 – Bust Art hostess Kristi Gordon, seen here with husband and husband Paul, takes and break from the weather to welcome guests to the first annual event.
02 – Think pink is always the message when it comes to breast cancer, and thanks to Kristi and her girls, the money raised at Bust Art will give women everywhere a fighting chance.
03 – Global TV news anchor Chris Gailus, seen here at Bust Art with wife/reporter Jane Carrigan, left, and morning anchor Lynn Colliar, is happy to play the part of MC.
04 – Design man Brady Dahmer and guest hit the see-and-be-seen scene at Bust Art social event.
05 – Shalina Kajani and her main man, veteran Global TV reporter John Daly, come out in support of Bust Art.
06 – Allison Spurrell and Joe Chaput, of West Vancouver's Les Amis du Fromage, slice fresh prosciutto at the Hot Chefs Cool Jazz fundraiser.
07 – Terminal City Club chef Jason Lloyd tempts West Vancouver's Jim Robertson with some Guiness braised shortribs at Hot Chefs Cool Jazz.
08 – Competing with the best at the Bocuse d'Or in Jan 2011, candidate chef Ryan Stone says his game plan is to feature fabulous local ingredients and not be intimidated.
– –
By Catherine Barr, May 14, 2010
Published in print by the North Shore Outlook Newspaper on May 20, 2010