Jimmy Pattison, Wendy B. McDonald, Frank A. Griffiths, Charles Bentall – these Junior Achievement of British Columbia Business Laureates Hall of Fame inductees have helped shape our province into the great place it is today and last week, the list grew by three. Peter Brown (Canaccord Financial), Dr. Ken Spencer (Creo Products) and, inducted posthumously, David W. Spencer (Spencer's department stores) were recognized at the annual gala last week at the Fairmont Hotel Vancouver and have now joined an elite group of outstanding individuals who "make equally outstanding contributions to free enterprise and their society". Junior Achievement Canada established the Canadian Business Hall of Fame in 1979 and now has over 140 members.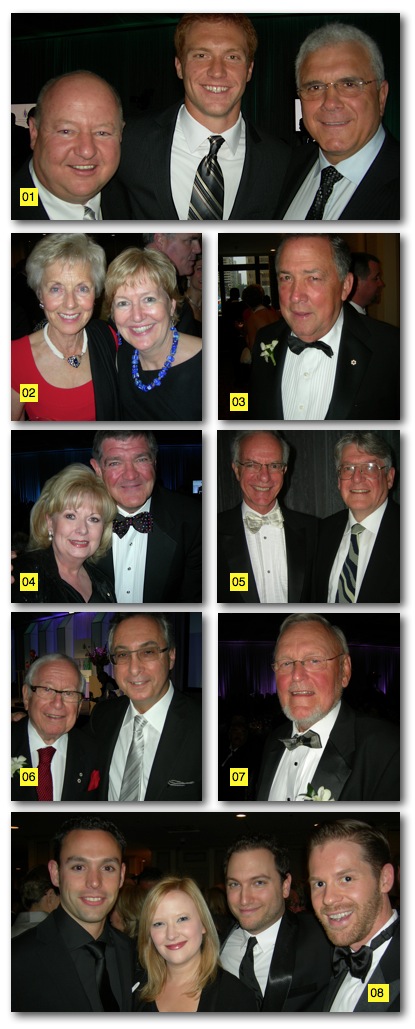 01 – BC Lions president and CEO Dennis Skulsky, left, quarterback Travis Lulay and coach/GM Wally Buono head up a table belonging to the club and fellow Waterboys.
02 – Joanne Brown, wife of inductee Peter Brown, chats with Vancouver councillor Suzanne Anton during the reception.
03 – Canaccord's head honcho and business inductee Peter M. Brown has a long list of credentials including former chair of the Vancouver Stock Exchange, VANOC board member and vice-chair of Expo 86 Corp.
04 – Canadian Senator, the Hon. Pamela Wallin (O.C. S.O.M.), seen here with co-chair Terry Lyons, delivers an excellent speech, emphasizing the need to balance between "doing the right thing" and "doing something right".
05 – Black Press publisher David Black, left, who is also a member of the Business Laureates BC Hall of Fame, attends the event with Burrowing Owl's Doug Robinson.
06 – Well known for his philanthropy, Business Laureates Hall of Fame member Joseph Segal, left, and son Gary Segal enjoy a gala night out with friends.
07 – Inductee Dr. Ken Spencer, of Creo Products, is also well known for his support of Vancouver's Science World and his work with the Science Council of BC.
08 – Sitting at the Capilano Suspension Bridge table are Mark Chala, left, Stacy Chala, Erik Andersen and Jonathon Litchfield.
– –
By Catherine Barr – May 11, 2011
Also as seen in print in the North Shore Outlook Newspaper on May 19, 2011