It was time for cocktails, cars and catwalks at the 4th Annual Brian Jessel BMW Cabriolet Charity Fashion Gala. Benefitting BC Women's Hospital & Health Centre Foundation and the VGH & UBC Hospital for prostate research, the evening featured fashions by Hugo Boss and Harry Rosen as well as a fabulous martini / wine bar, four-star food by some of Vancouver's top restaurants and more beautiful accessories than you can imagine. Va Va Vroom!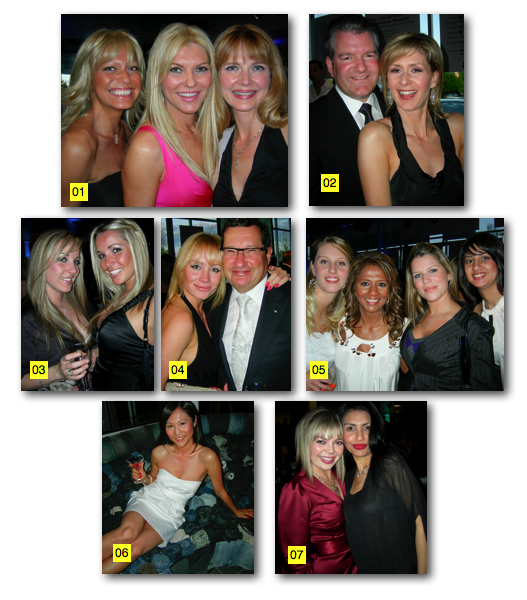 01 – It's the beautiful blondes – namely guest Robin Horvat, left, committee member and North Shore gal Lynn Wigen and friend Lana Bissett.
02 – CTV News personalities Coleen Christie and North Vancouver's Mike Killeen helped MC the fashion show before giving away the grand prize of a BMW convertible for one year.
03 – Pink Luxury diamond twins Courtney and Kim Helman are the envy of most women as they get to wear and sell the rare stones every day.
04 – Looking sexy in basic black, Amber Webster cuddles up to host  and BMW king Brian Jessel.
05 – West Vancouver's beautiful Devina Zalesky, second left, and her AllWest Insurance gals are big supporters of the cause.
06 – Lounging on a couch made entirely of blue jeans, Mavi Jeans PR gal Cora Mau encourages bids to the silent auction.
07 – West Vancouver realtor and event sponsor Alexis Palkowski joins Sherani Goldberg in supporting this very worthwhile cause.
May 8, 2009 (published May 21, 2009)
Catherine Barr's column appears every Thursday in the North Shore Outlook – 60,000 copies delivered to homes in the North Vancouver and West Vancouver area If you wish to submit an event for coverage please fill in the form found here or email Cat at info@catherinebarr.com.