Brad Pitt's mere presence at any location is reason enough for a traffic jam and even a few car crashes. Not wanting to miss out, fans at the Toronto Film Festival proved they too were willing to go the distance for a glimpse of greatness.
Screaming star-seekers jammed the streets as Pitt and posse walked the red carpet for the "Burn After Reading" premiere this week. The new Coen brothers movie, which starts everywhere this Friday, stars Frances McDormand, Tilda Swinton, John Malkovich, Richard Jenkins and Pitt's latest BFF, "Gorgeous George" Clooney.

Back in Toronto, fender benders abounded as angry commuters clash-crashed with starry-eyed onlookers who couldn't have cared less about the mayhem on the street and were fiercely fixated on the man candy coming out of the cars.
Still, given Pitt's movie history, car crashes and bashes have been his subplot since the beginning.
Pitt exploded onto the big screen in 1991 by making sexytime with Geena Davis and rambling round the country in a 1966 Thunderbird convertible in Thelma and Louise. Then, in 1999, Pitt and co-star Edward Norton beat the fahvernugen out of the newly released Volkswagen Beetle. They hated the car so much that they purposely worked a scene into the movie where they repeatedly attack the harmless beetlebug with baseball bats. Pitt has since backpedaled saying he has now grown to appreciate the car's classic feel. Sure . . . whatever.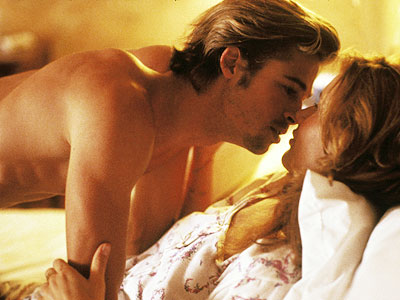 And the carjacking continues even today in "Burn After Reading" as movie previews show Pitt and co-star Frances McDormand rear-ending an unsuspecting John Malkovich in his classic Mercedes. Heck, if it makes the preview reels, it has to be a high point in the movie.
So what's up next for beautiful Brad and his auto-motivational stories? How about a new super-sexy Tesla roadster which weighs in with a top speed of 125 mph and a price tag well over $100,000 – but is totally electric and completely friendly to the environment. Apparently Brad the Lad won't be the only one waiting for the super-status car to be delivered – movie buds Matt Damon and George Clooney are also waiting with baited breath. Can Ocean's Fourteen be far behind? 
– as published by Canadian Auto Press on September 10, 2008 – written by Catherine Barr