There was lots to celebrate this year at North Vancouver's Mosquito Creek Marina as the 7th Annual Boat Show at the Creek sailed into town. Held in conjunction with the marina's 50th anniversary, and owned and operated by the Skwxwú7mesh Úxwumix (Squamish Nation), boat lovers got a chance to see how the millionaires live life on the water. An exciting opening night reception party aboard the stylish Celebration of Water took place to kick off the weekend's festivities as local dignitaries, participants and friends got a chance to cash in on the last of the great summer weather and toast the occasion in style.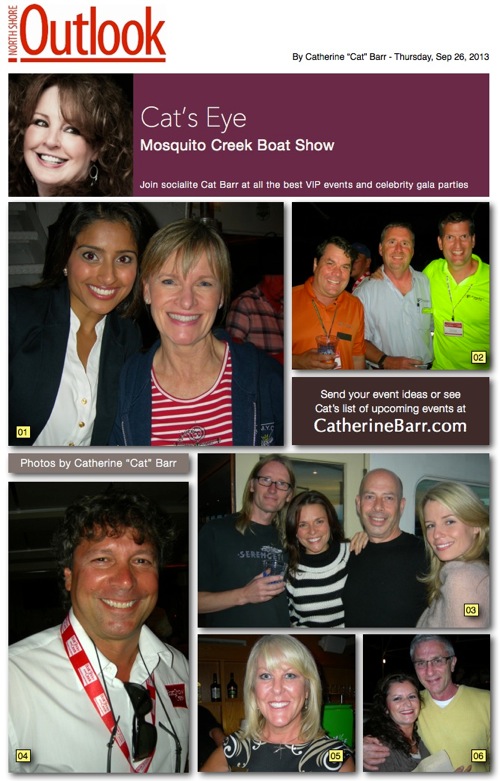 01 – Helping organize the welcome reception and fashion show event are media gals Meena Mann, left, and Linda Aylesworth.
02 – Freedom Marine Group's main men have swabbed the decks and are ready to sell. From left: Brian Huse, David Campbell and Don Young.
03 – Taking in the fashion show are guests Noke Nissen, left, Myriam Laroche, Neil Aisenstat and Jessica Taylor.
04 – He's the man who helps make it all happen. Donny Mekilok, GM Squamish Nation Marine Group helps out with the speeches.
05 – Manager Suzanne Bidinost's beautiful Celebration on Water vessel is actually a converted ferry that has been permanently moored in the marina and is available for all kinds of special occasions.
06 – Taking home one of the big raffle prizes, Katie and Andrew Peterson will get to enjoy dinner at Pier 7 restaurant.
– – –
By Catherine Barr – Sep 19, 2013
Also as seen in print in the North Shore Outlook Newspaper on Sep 26, 2013
– – –

– – –