Cool cars and funky fashions seem to go hand in hand, especially last week when two great local events ensured a stylish look for all. First up, North Shore BMW, at the North Shore Auto Mall, introduced the newest members of their X Series line at a elegant dealership reception. The sparkling white BMW X1 SUV/crossover was the star of the show as guests got a chance to see it unveiled for the very first time. Next it was a full on girls night out at West Vancouver's Hollyburn Country Club as Pilar's held their Viva La Moda – West Vancouver Spring 2011 Fashion Show. Runway reveals had everyone thinking spring and no one went home empty handed thanks to a plethora of fabulous prize giveaways.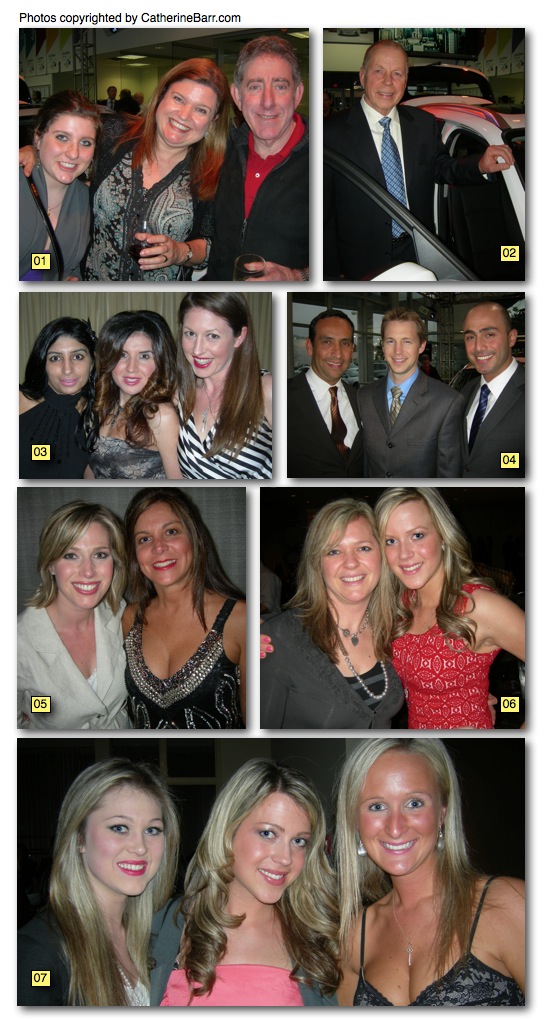 01 – This family knows cars. Rod Kopman, of Rod's Exotic Auto Detail in North Vancouver, and his wife Chloe and daughter Simone check out the new offerings from BMW.
02 – Park Shore BMW operations manager Horst Duess, gets ready to ride in the new BMW X1 car.
03 – Taking in the fashion show at Hollyburn are friends Karen Deol, left, North Shore Outlook gal Maria Spitale-Leisk and Ivy McKee.
04 – Baby you can drive my car, especially if it's a new BMW X1. Park Shore BMW boys Frank Rodriguez, left, Michael Regan and Amir Yusefi are ready for the new season.
05 – Breakfast TV host and weathergirl Dawn Chubai, left, gets ready to MC at Pilar Buse-Recavarren's sensational spring fashion show.
06 – It's a night out at Hollyburn for fashion forward guests Teresa Englmann, left, and Samantha Davidson.
07 – Fashions, friends and fun are all part of the night for Julie Englmann, left, Ashleigh Davidson and Natalie Englmann.
– –
By Catherine Barr – April 8, 2011
Also as seen in print in the North Shore Outlook Newspaper on April 14, 2011