Kermit the Frog said it best – It's not easy being green. However, thanks to some new sustainable programs (like the Vancouver Aquarium's Ocean Wise program), Vancouver chefs are responding with enthusiasm. Such was the case at Blue Water Cafe last week. West Vancouver owner Jack Evrensel, along with his talented team, launched a new seafood cookbook focusing on "Spare the Ocean, Spoil the Palate". The restaurant also played host to the Red Carpet Soiree – a toast to the 100 year celebration of the Red Cross – an organization known for its care of third world, health and sustainable recycling programs.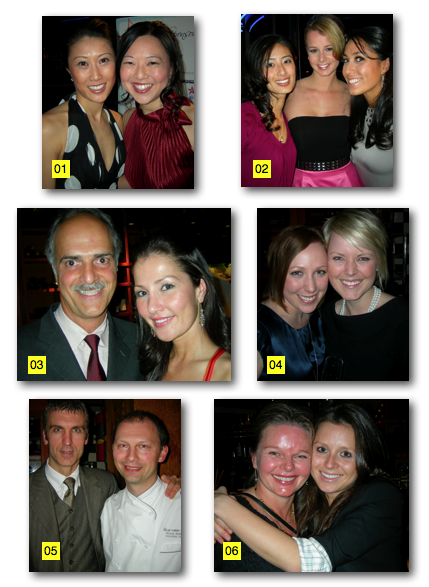 01 – Red Carpet gala co-chairs Anita Chow, left, and Linda Low look very glamorous under the red tent awning.
02 – Lindsay Thom, left, Erin Treloar and Renee Fischer celebrate this important date with smiles, cocktails and sustainable seafood.
03 – West Vancouver restaurateur Jack Evrensel, who owns Blue Water, Cin Cin, West and Araxi, chats with PR Gal and former NS Outlook reporter Jennifer Maloney.
04 – Blue Water gals Shelley McArthur and Kate MacDougall have a double reason to be proud helping promote both the Red Cross and a green way of life.
05 – It's a green light all the way for the food at Blue Water thanks to restaurant directory Stephan Cachard, left, and exec chef Frank Pabst.
06 – West Vancouverite and Dundarave Fish Market owner Kim Hurford, seen here with daughter Brooke, knows all about life in, and on, the sea and came out to celebrate.
May 23, 2009 (published May 28, 2009)
Catherine Barr's column appears every Thursday in the North Shore Outlook – 60,000 copies delivered to homes in the North Vancouver and West Vancouver area If you wish to submit an event for coverage please fill in the form found here or email Cat at info@catherinebarr.com.