Spring is in full bloom everywhere! What better way to celebrate than with The Bay in West Vancouver / Park Royal at their spring beauty night soiree. With fragrances as sweet as the blossoming flowers and flirty cosmetic colours bursting out all over, this night was a special opportunity for guests and shoppers to work their way through the new offerings while enjoying some cocktails, music and special demonstrations. Designer names like Armani, Prada, Oscar de la Renta, Chanel and more were all on display with their new and old favourites. It was a tropical celebration of beauty and style that helps prove that the best of the sunshine season is on its way.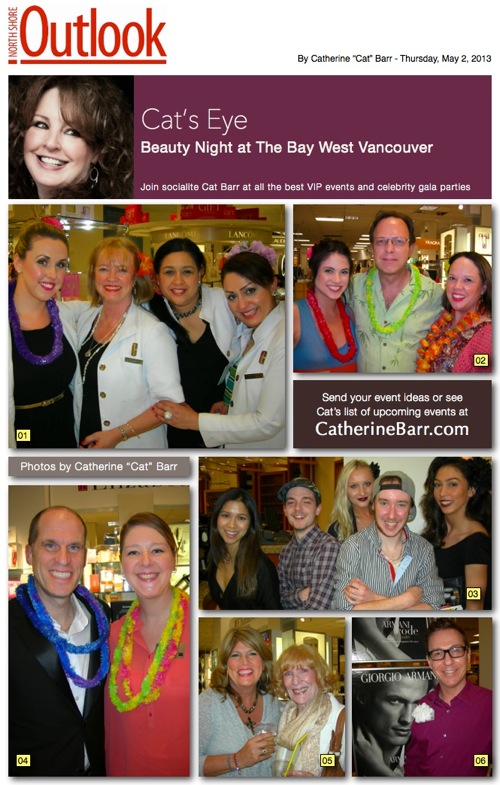 01 – The glam girls at the Clinique counter help with skin care tips and techniques at the beauty night soiree. From left: Andrea Greenalgh, Janis Lawrie, Charmaine Martinez and Tannaz Ahmadi.
02 – Wearing colourful leis and getting into the spirit of the night are Ashley Durrant, left, Keith Tiede and Michelle Richardson.
03 – Spinning beats with the girls over at the Mac cosmetics counter, DJs Ryan Leonard, left, and Dean Turner hit the groove with Leanna Hubert, left, Colleen Barber and Lilia Afsahi.
04 – The Bay general manager Dave Wilkinson teams up with sales manager Kathryn Wall to put on this evening's festive event.
05 – Showing off the best of Estee Lauder, sales rep Janine Fieldgate shows guest Jo Hailstone how to put on this spring's prettiest shades.
06 – Sales associate Troy B is Armani all the way. He helped organize the designer event which featured cocktails, special giveaways and demonstrations.
– – –
By Catherine Barr – April 19, 2013
Also as seen in print in the North Shore Outlook Newspaper on May 2, 2013

– – –