The BC Sports Hall of Fame has always been an impressive place of history in Vancouver, but now, thanks to a revamped BC Place, the Hall of Fame has a new home and even bigger legacy to share. Last week, during a special VIP reception, invited guests, athletes and friends were part of an extra special dedication night full of famous memories. The who's who of past inductees were in attendance as everyone shared stories from a proud past.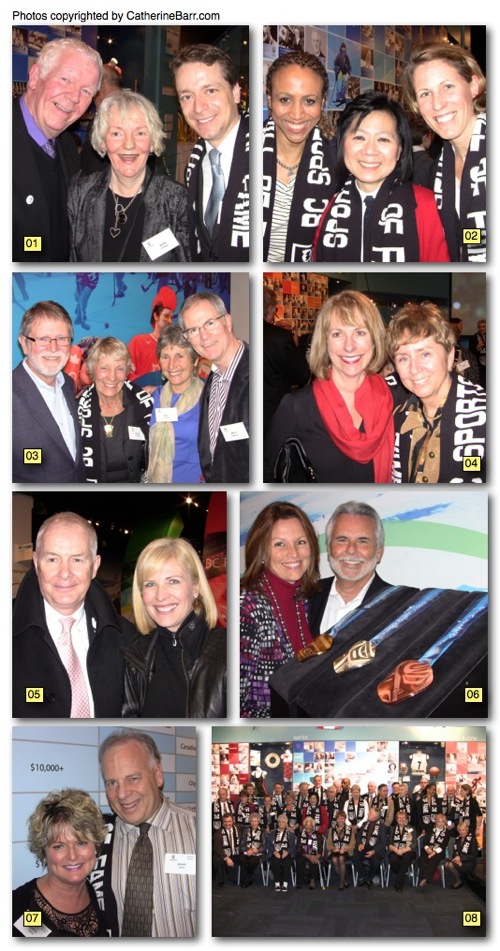 01 – West Vancouver artist Michael Tickner and wife Alice, left, shares some Olympic stories with ice dance champion Victor Kraatz who, along with skating partner Shae-Lynn Bourne, were the first World Champions in ice dancing representing Canada.
02 – West Vancouver Olympian Charmaine Crooks, left, poses with the Honourable Ida Chong, Minister of Community, Sports and Cultural Development, and athlete Andrea Neal who will be inducted for the sport of soccer at this year's Banquet of Champions.
03 – Global BC TV's Ian Haysom, left, celebrates the occasions with VIP guests Audrey Williams, Beth Haysom and Brett Manlove.
04 – Whistler Mayor Nancy Wilheim, left, chats with former Olympian and ski champion Nancy Greene, who also acted as this evening's MC.
05 – Celebrating the two-year anniversary of the Vancouver 2010 Olympic games, John Furlong still has good reason to smile. His book, "Patriot Hearts", remains a best seller.
06 – North Shore residents Stephen Simpson and Susan Dujmovic remember the good times as they stand near the Olympic medallion display which Susan helped unveil during the games as part of the Royal Canadian Mint.
07 – North Vancouver skating sweethearts Barry and Louise Soper were inducted into the Hall of Fame in 1979. Together they won all three levels of national competition (from 1971 to 1974) and represented Canada as Canadian Ice Dance Champions at four World Figure Skating Championships.
08 – With too many names to mention, this historic photograph of present and past Hall of Famers marks the start of a new era of excellence.
– – –
By Catherine Barr – Feb 10, 2012
Also as seen in print in the North Shore Outlook Newspaper on Feb 16, 2012
– – –

– – –