Do you remember when the BC Lions hoisted the Grey Cup in 1994? How about when "Burnaby Joe" Sakic led his team to Stanley Cup victory in both 1996 and 2001? These victories, and more, were was all part of the walk down memory lane this month as the BC Sports Hall of Fame and Museum held their 2010 Banquet of Champions gala at the Vancouver Convention Centre. Joining the ranks of those who went before them, the Class of 2010 was led into the hall by pipers to celebrate along with 1100 other invited guests, all of whom came together to also help raise over $385,000 for the BC Sports Hall of Fame's Hero in You® Education programs. Congrats to all inductees.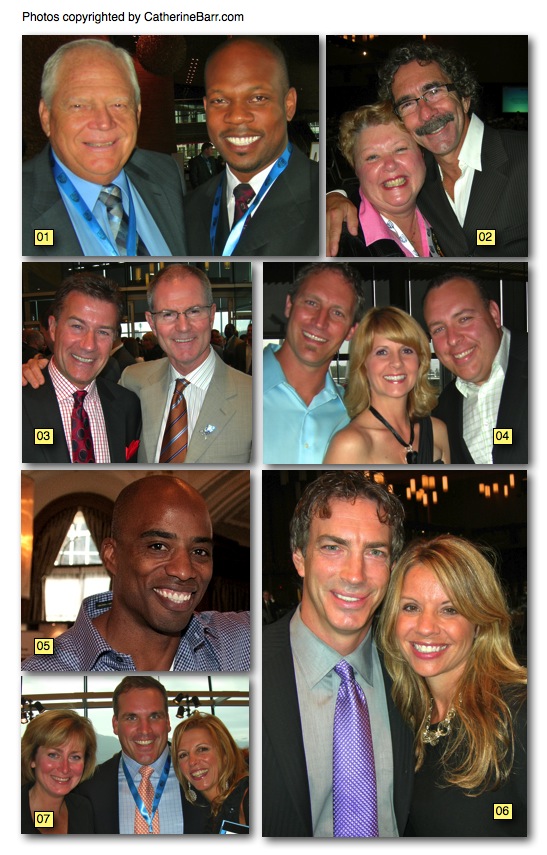 – –
01 – BC Lions head coach Dave Richie, left, and player Ryan Hanson were among the many members of the Grey Cup Champion 1994 team that was inducted this evening.
02 – North Vancouver's own skating sweetheart Karen Magnussen, who was inducted in 1972, now sits on the board. Here, she gets a cuddle from Rock 101's "Bro Jake" Edwards before the ceremonies begin.
03 – Dean Mailey, president of West Vancouver's Fusion Communications Group, and North Vancouver's Brett Manlove, assistant GM of Global TV, are among the invited guests.
04 – Firefighter Dave Samson, left, cheers on Global TV's Jill Krop and Steve Darling as they host the awards and interview each inductee on stage.
05 – Inducted as both an individual and as part of a team, BC Lions hero Sean Millington got his start right here in North Vancouver at Carson Graham school.
06 – He may have won two Stanley Cup rings with the Colorado Avalanche, but we know that "Burnaby Joe" Sakic, seen here with beautiful wife Debbie, remains a BC boy at heart.
07 – Weathergirl turned realtor Sarah Daniels, left, and friend Christine Glen are not passing up the chance for a photo op with hunky hall-of-famer Jamie Taras of the 1994 BC Lions.
By Catherine Barr – Sep 9, 2010
Also as seen in print in the North Shore Outlook newspaper on Sep 30, 2010