Eating healthy can be fun, just ask the BC Produce Marketing Association and the BC Lions. Last week, the 13th annual Healthy Chef Competition took place at the Hyatt Regency hotel in Vancouver. Grey Cup winning members of the BC Lions, including Travis Lulay and Geroy Simon, were among the several celebrities in the room as chefs battled it out for top spot. Guests at the event came away with the biggest winnings however as everyone was given secret envelopes to open which revealed which property would be treating them to their specialty dinner and dessert. Live music, auction items and roses for all the ladies made this a glamorous night out for all.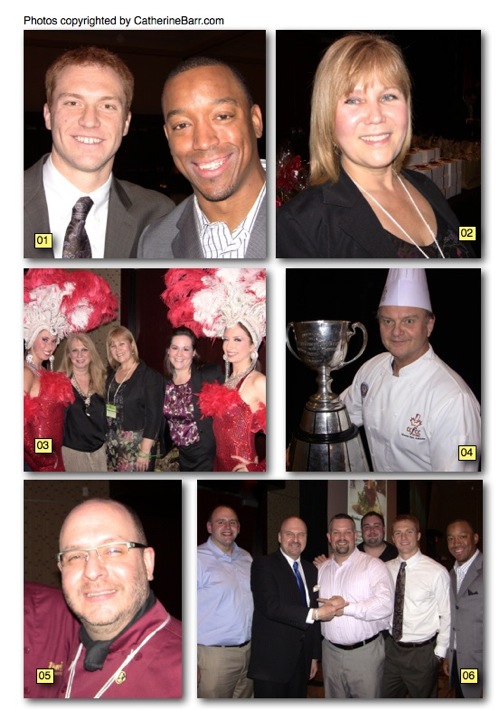 01 – BC Lions members Travis Lulay, left, and Geroy Simon receive a big round of applause as they are introduced at the Healthy Chef Competition.
02 – BC Produce Marketing Association's Margie Schurko works tirelessly behind the scenes to make the Healthy Chef Competition a fabulous success. Congrats Margie on another great year!
03 – Who says healthy can't be glamorous. Organizer Margie Schurko and her team pose with the Las Vegas showgirls at the Healthy Chef competition.
04 – BC Chefs' Association member and event organizer Marcus Vonalbrecht gets photographed with the coveted Grey Cup during the reception. Marcus was also the evening's MC.
05 – Long time famous North Shore chef Sylvain Cuerrier now hangs his hat at the River Rock Casino in Richmond where he heads up the swanky Tramonto restaurant.
06 – North Vancouver's favourite weatherman, Marke Driesschen, is always wonderful as host of the Healthy Chef Competition. Here he buddies up to our Grey Cup winning BC Lions before heading to dinner.
– – –
By Catherine Barr – March 7, 2012
Also as seen in print in the North Shore Outlook Newspaper on March 22, 2012
– – –

– – –