I've always said it's like a little bit of the Academy Awards right here in BC – but the truth is that the Leo Awards are much much more. And when you consider all the talented people that work in BC film and television, there really is a lot to celebrate. The 15th anniversary gala of the Leo Awards was held last weekend as the Westin Bayshore rolled out the red carpet and put on the ritz to welcome a record number of deserving nominees. The local stars, directors, producers, voice actors and stuntmen that have helped make Hollywood North a reality were all winners. Comedians Brent Butt and wife Nancy Robertson were spectacular as hosts and live music by Hal Beckett and The Vancouver Film Orchestra really added big glamour to make this one of the best years ever!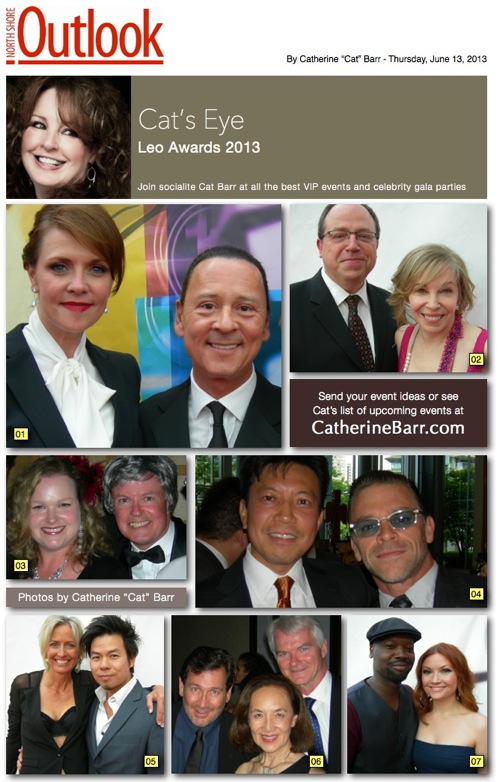 01 – West Vancouver actress Amanda Tapping, who is a presenter this night, joins North Vancouver impresario and Leo Awards president Walter Daroshin who started it all 15 years ago. Congrats!
02 – With their masterful timing and hilarious ability to garner a laugh at every turn, actors/comedians Brent Butt and Nancy Robertson host the 15th anniversary gala.
03 – Strike up the band for Liz Bowen and North Vancouver's own Gary Jones as they keep everyone laughing during their musical tribute sketch.
04 – Leo Awards producer Sonny Wong chats with the very talented Ian Tracey who would later take home two Leos for his performances in Ring of Fire and Continuum.
05 – The North Shore's own Jill Hope Johnson, producer, walks the red carpet with actor Vincent Tong, both of whom are nominated for the web series Yoga Town.
06 – Donna Wong-Juliani, chair of the Motion Picture Arts & Sciences Foundation of BC, and Peter Leitch, chair of the Motion Picture Producers Industry Association and president of North Shore Studios, present the Stephen J Cannell "Friend of BC" award to director/producer David Nutter, left, who has worked on everything from ER, Band of Brothers and Entourage to the amazingly popular Game of Thrones.
07 – Walking the red carpet are Becoming Redwood actors Viv Leacock and Joely Collins. Becoming Redwood was nominated for 14 Leo Awards this year.
– – –
By Catherine Barr – Jun 8, 2013
Also as seen in print in the North Shore Outlook Newspaper on Jun 13, 2013

– – –