It was a who's who of Vancouver business leaders, movers and shakers last week at a special reception held by the BC Children's Hospital Foundation to celebrate the grand finale of their long-reaching $200-million campaign for a new hospital. At an elegant stand-up reception, invited guests, major donors and VIPs marked the end of the fundraising road, and the beginning of a new future for BC kids everywhere in need of medial care. The evening included speeches by foundation leaders, special presentations and a live sing-along to "Walking on Sunshine" with a very special group of young patients/performers. Now, it's time to break ground and start building for the future.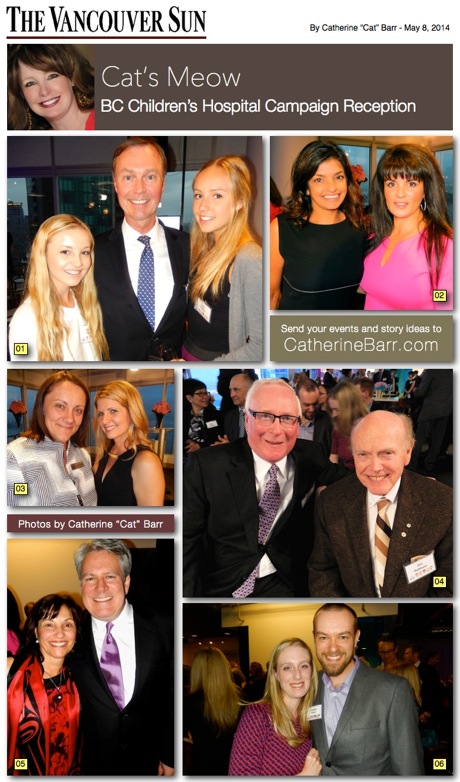 – – –
01 – Daughters Charlotte, left, and Julia pose with dad Donald Lindsay, President and CEO of Teck Resources, who is the chair of the foundation's capital campaign.
02 – Sherry Doman, left, and Tali'ah Aquilini at the reception.
03 – Philanthropy officer Nancy Stoiber, left, chats with Global TV's Jill Krop who is also the evening's MC.
04 – Current foundation chair David Podmore, left, and Canadian businessman Jim Pattison are both speakers this evening.
05 – Foundation CEO Teri Nicholas and past board chair Kevin Bent.
06 – Telling a heart-warming story of how BC Children's Hopsital has helped their family, parents Sasa Drover and Stephen come out in support.
– – –
By Catherine Barr – May 08, 2014
Also as seen in the Vancouver Sun Newspaper
– – –
By Catherine Barr




www.CatherineBarr.com  |  www.WestVancouver.com  |  www.NorthVancouver.com
– – –