It was billed as the dinner of a lifetime. North Vancouver's own Pino Posteraro, of Cioppino's Mediterranean Grill fame in Yaletown, played host to an elite group of famous foodies at his restaurant earlier this month to serve a $500 a plate, 12-course feast in support of the BC's Chefs' Table Soiety (CTS). The "Senza Frontiere" (without borders) dinner helped raise funds for the creation of bursaries and scholarships for young, emerging, student chefs. Vancouver's finest chefs shared kitchen duty as they put their egos on hold and cooked up a storm that was dressed to impress. Congrats.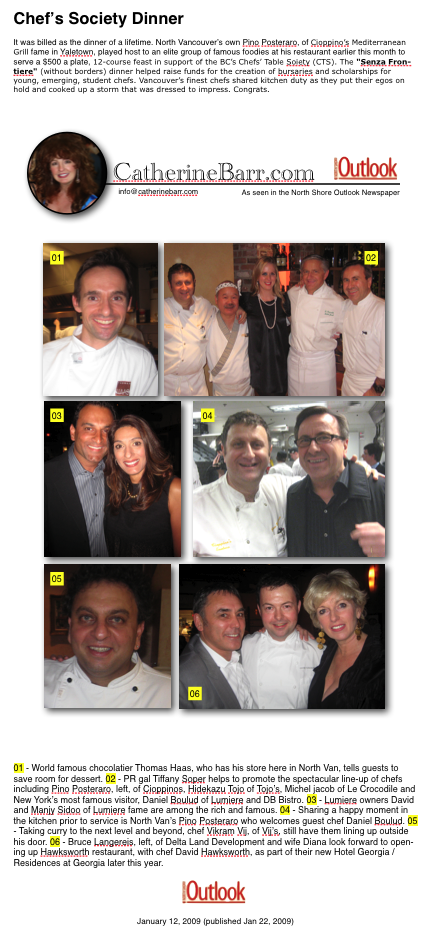 01 – World famous chocolatier Thomas Haas, who has his store here in North Van, tells guests to save room for dessert. 02 – PR gal Tiffany Soper helps to promote the spectacular line-up of chefs including Pino Posteraro, left, of Cioppinos, Hidekazu Tojo of Tojo's, Michel jacob of Le Crocodile and New York's most famous visitor, Daniel Boulud of Lumiere and DB Bistro. 03 – Lumiere owners David and Manjy Sidoo of Lumiere fame are among the rich and famous. 04 – Sharing a happy moment in the kitchen prior to service is North Van's Pino Posteraro who welcomes guest chef Daniel Boulud. 05 – Taking curry to the next level and beyond, chef Vikram Vij, of Vij's, still have them lining up outside his door. 06 – Bruce Langereis, left, of Delta Land Development and wife Diana look forward to opening up Hawksworth restaurant, with chef David Hawksworth, as part of their new Hotel Georgia / Residences at Georgia later this year.
January 12, 2009 (published Jan 22, 2009)

Catherine Barr's column appears every Thursday in the North Shore Outlook – 60,000 copies delivered to homes in the North Vancouver and West Vancouver area If you wish to submit an event for coverage please fill in the form found here or email Cat at info@catherinebarr.com.