Singers Barney Bentall and Jully Black helped headline a spectacular gala wine weekend in and around Osoyoos last weekend. The rich and famous from all across the North Shore headed to the Okanagan to help celebrate at Sean and Saeedeh Salem's Enotecca wineries La Stella and Le Vieux Pin. A casual Friday night reception at La Stella, featuring a private concert by Bentall, was followed up by a uber glamorous Saturday night gala at Le Vieux Pin winery complete with five course dinner and another private concert by Toronto based singer Jully Black. Auction items included private boxes from The Vancouver Canucks' Aquillini family, hotel suites from Bruce Langereis and the new Rosewood Hotel Georgia, VIP boat trips and exquisite art pieces. TV producers from Slice Network's "Party Mamas" were on hand to capture all the action so stay tuned for more. All proceeds raised benefit the Women United in Philanthropy and the South Okanagan Hospital.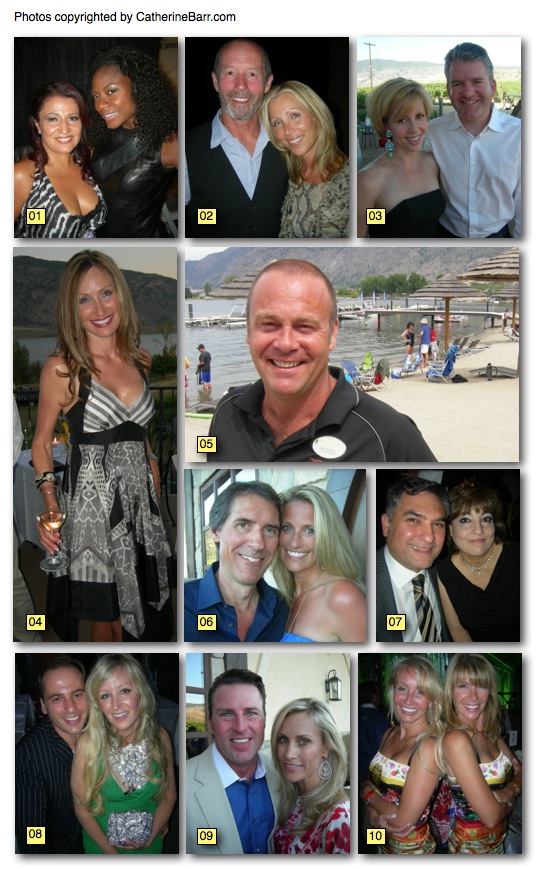 01 – Winery owner Saeedeh Salem, left, seen here with gala headliner Jully Black, will soon be seen on Slice network's "Party Mamas" where we'll all get a behind the scenes look at how to throw a major glam party.
02 – Friday night headliner Barney Bentall, seen here with the beautiful Heidi Coglan, keeps guests entertained at the La Stella winery reception.
03 – North Vancouver's own anchor man Mike Killeen and his always stunning lady wife Jill were more than happy to turn a winery weekend into a trip for the family.
04 – West Vancouver's Carey Hoogstins Smith, seen here as the sun sets on La Stella, is no stranger to the charity scene having chaired the Heart & Stroke gala earlier this year.
05 – Just call him the Nut Manager (Twitter: @nutmanager). Former West Vancouverite and Walnut Beach Resort GM Don Brogan doesn't mind working in paradise during the summers in Osoyoos. Complete with private beach, this resort let's you live like a rock star!
06 – West Vancouver power couple Leah Costello and David Rowntree join friends and VIP guests at the Le Vieux Pin gala night.
07 – Always generous with their support of local charities, West Vancouver's Arezoo Aliperti and husband Fiero enjoy a five-course meal courtesy C Restaurant.
08 – Wearing a stunning neckpiece, West Vancouver caterer/businesswoman Jody Claman and her hubby are keeping everyone guessing as to what realty series she'll be appearing on next. Right now, it remains a "yummy" secret.
09 – Washington Marine Group / Seaspan's Kyle Washington and wife Janelle fly in via float plane from West Vancouver to take in all the glam at the Saturday night gala.
10 – Who says great minds don't think alike. Tanned and toned and wearing matching Dolce & Gabbana couture, Kathleen Lindsay, left, and Jill Lyall look double trouble terrific!
– –
By Catherine Barr – Aug 20, 2011
Also as seen in print in the North Shore Outlook Newspaper on Aug 25, 2011