What happens when you put high fashion, luxury sports cars and celebrities together in one room? The answer is the 6th annual Brian Jessel BMW Cabriolet Charity Gala. Supporting pancreatic cancer research at Vancouver General Hospital (VGH), this night featured both silent and live auction items, food and beverage stations (provided by some of Vancouver's best known restaurants) and a live performance by Canada's own Barenaked Ladies who rocked the house till midnight. Some of the North Shore's famous faces walked the red carpet alongside the city's beautiful people who all came out to support this very worthwhile cause.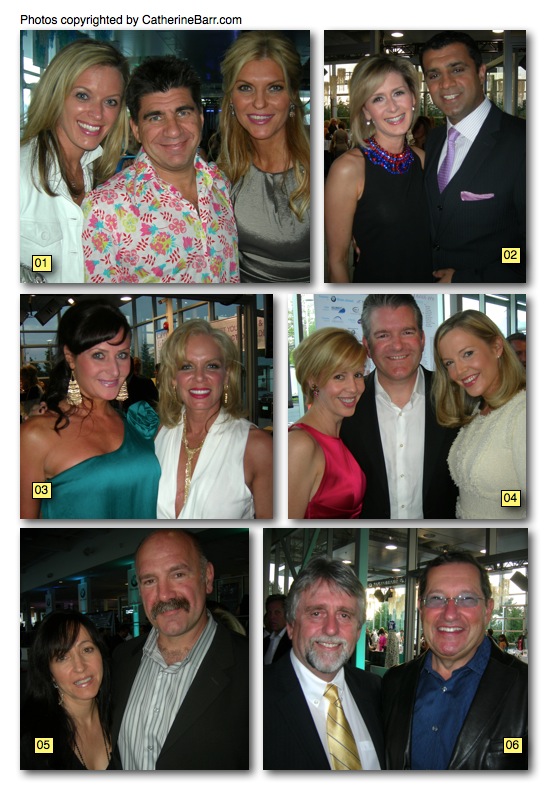 01 – Taking a look at the auction items up for grabs are Candace Alderson, left, Alan Gelfand and Lynn Wigen.
02 – Always wonderful to see CTV Vancouver's Coleen Christie and Farhan Lalji take the stage. This dynamic duo helped MC at the live auction and also introduced the Barenaked Ladies for their performance.
03 – Sexy social gals Traci Myles, left, and Carla Temple get a chance to talk about cars, stars and Carla's impressive former life as a Canadian bodybuilding champion.
04 – CTV news anchor and North Vancouverite Mike Killeen is all smiles as he gets a chance to cuddle up to his beautiful wife Jill, left, and talented West Vancouver estate lawyer Nicole Garton-Jones.
05 – Former Canucks hero and North Shore resident Dave Babych, seen here with wife Diana, was among the VIPs at the party.
06 – BMW sales executive Dave Griffiths, left, congratulates dealer/owner Brian Jessel on another fantastic gala fundraising night.
– –
By Catherine Barr – June 11, 2011
Also as seen in print in the North Shore Outlook Newspaper on June 23, 2011