Championship boxing, Las Vegas showgirls, glamorous auction prizes and fabulous food. It was a ten year anniversary to remember for the folks at the Athletics for Kids (A4K) gala last weekend up at West Vancouver's Hollyburn Country Club. Items up for grab included a Westjet trip raffle and a never before seen trip to Los Angeles to see "Dancing with the Stars" in person. But even after all these years, the message remains the same, and that's the wish that no child be denied the right to play sports. The A4K organization was started with that goal in mind, and today, they've helped countless children take part in all kinds of activities that might otherwise be unavailable to them due to financial constraints or high costs. Congrats to all involved.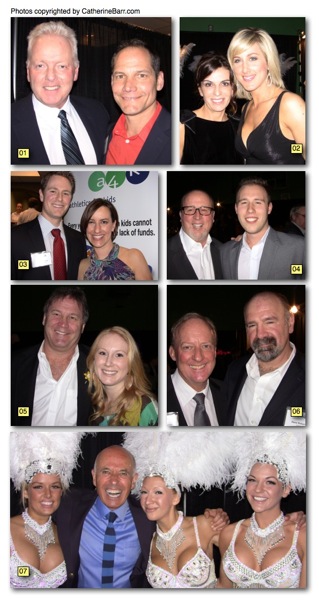 01 – Noted Team1040 sportscaster and event MC Barry "B-Mac" Macdonald, left, joins A4K president Chris Obst who has been involved in the organization since 2002.
02 – Janet Atchison, left, and GlobalTV's Anne Drewa bring out the "little black dress" for the Vegas celebration.
03 – A4K executive director Derek Mayson and Eventful Innovations' Pamela Buck both deserve a round of applause for organizing a stunning ten year anniversary gala.
04 – Dr. Marc Boileau, who also sits ringside as one of the medical officials, enjoys a boys night out with son Andre.
05 – A generous supporter over all ten years, and a former athlete himself, Bobby Baker enjoys the gala evening with his beautiful daughter.
06 – Founding sponsor and former president Craig Knapton gets a chance to mix and mingle before the big event with fellow A4K board member, and Vancouver Canucks great, Dave Babych.
07 – What happens in Vegas, stays in Vegas – but when it's for a good cause, ringside physician Dr. Michael Kates doesn't mind posing with the showgirls.
– – –
By Catherine Barr – March 30, 2012
Also as seen in print in the North Shore Outlook Newspaper on April 5, 2012
– – –