The Art of a Woman, a special art unveiling dedicated to breast cancer, took place last week at the Bau Xi gallery on Granville. Sponsored by Diane's Lingerie as part of their new rebranding campaign, the evening included a first time glimpse of very unique artwork created by a list of Vancouver's most prominent women. Each participant was covered in body paint and a canvas imprint was taken which then was turned into an amazing work of art. Anonymity was guaranteed as only the subject was told which print was hers leaving it up to each one of the ladies to reveal their own secret. As for secrets, I'm proud to have been chosen as a participant and was more than pleased to be part of this graceful and tasteful exhibit. The art pieces were put up for auction and proceeds raised were donated to the Canadian Breast Cancer Foundation.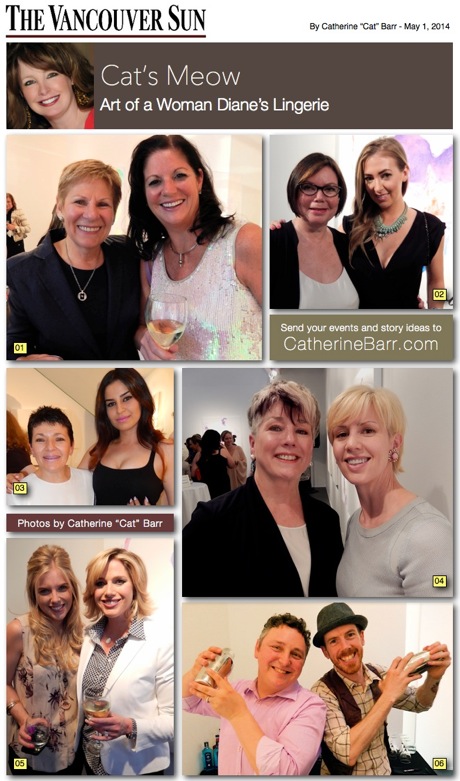 – – –
01 – Canadian Breast Cancer Foundation CEO Wendy Slavin, left, stands with art model and breast cancer survivor/leader Lenora Gates.
02 – Diane's Lingerie boutique owner Sharon Hayes, left, and style maven Christie Lohr pose in front of her print.
03 – Diane's perfect fitters Monica Egea, left, and Mara Mashhour know their lingerie.
04 – Lovely ladies Lynda Barr, left, and Jill Killeen.
05 – PR professional Liberty Lee, left, poses with event MC and media personality Dawn Chubai.
06 – Shaking things up at the bar are award-winning mixologists from West Restaurant David Wolowidnyk, left, and Kevin Brownlee.
– – –
By Catherine Barr – May 1, 2014
Also as seen in the Vancouver Sun Newspaper
– – –
By Catherine Barr




www.CatherineBarr.com  |  www.WestVancouver.com  |  www.NorthVancouver.com
– – –