Galas and giving go hand in hand at this time of the year. And never more so than with the great folks at Amica Mature Lifestyles and their Helping Hands Gala. Held at the Four Seasons hotel, guests were treated to a spectacular 70s themed evening complete with crazy costumes, auction items, live music and a 70s themed food event that featured specially made Cracker Jacks and Pop Tarts for dessert. Always known for fun, the evening is all about raising funds for the Helping Hands charity which supports low-income seniors during the holidays. In addition to the many social and wellness programs they support, monies also go to help fund passenger vans for seniors' community groups and a heartwarming basket giving program that sees a holiday basket full of food, gift certificates and blankets delivered to seniors in need. Happy Holidays!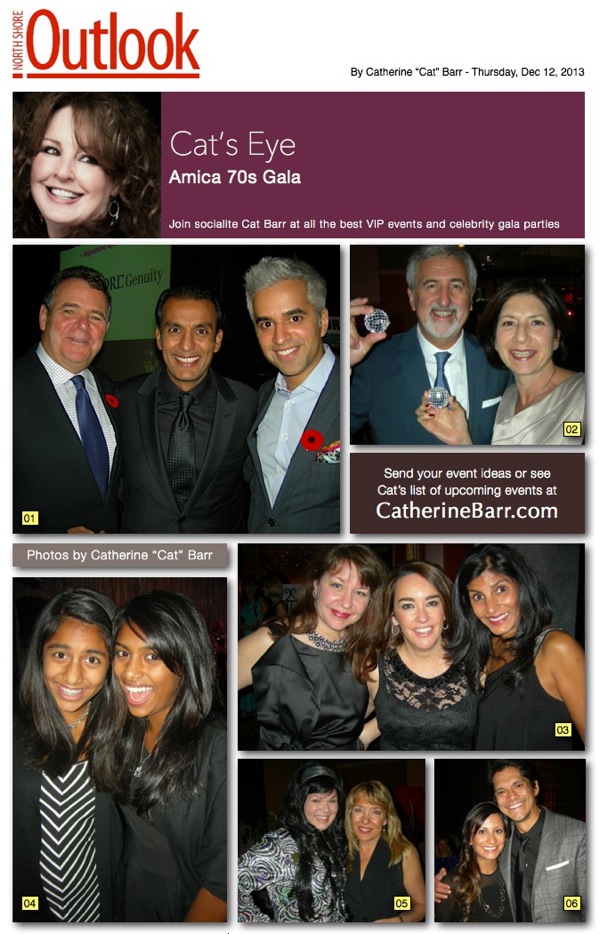 – – –
01 – Honorary gala chair Chuck van der Lee, left, joins Amica president and CEO Samir Manji and MC/host Riaz Meghji from CityTV.
02 – Chief operating officer Colin Halliwell and wife Brenda are digging the disco ball decorations at the 70s themed gala.
03 – Three cheers for Amica glam gals Deb Burrowes, left, event co-chair Lynn Madigan and Sheena Manji.
04 – Helping sell giving baskets are two of the evening's best helpers: sisters Celina and Kiyaana Manji.
05 – West Vancouver's Amica ladies Lynn Larsen, left, and Laura Lachambre get into the theme of things.
06 – The North Shore's Tamee and Salim Karim are celebrating in two ways tonight after just having twins a few weeks ago.
– – –
By Catherine Barr – Nov 6, 2013
Also as seen in print in the North Shore Outlook Newspaper on Dec 12, 2013
– – –

– – –