The Amica retirement housing complex in West Vancouver is both beautiful and luxurious. But what many don't realize, is that seniors living below the poverty line are more common than ever before. Thankfully, the good folks behind the Third Annual Amica Helping Hands Gala are here to help. Held at the Four Seasons Hotel, the gala featured a delicious gourmet meal, live auction items and a great night of entertainment by the Fab Fourever Beatles tribute band. The 2011 gala raised over $150,000 for seniors living in poverty across Canada. Those wishing to contribute can do so at any time through www.amica.ca/helpinghands.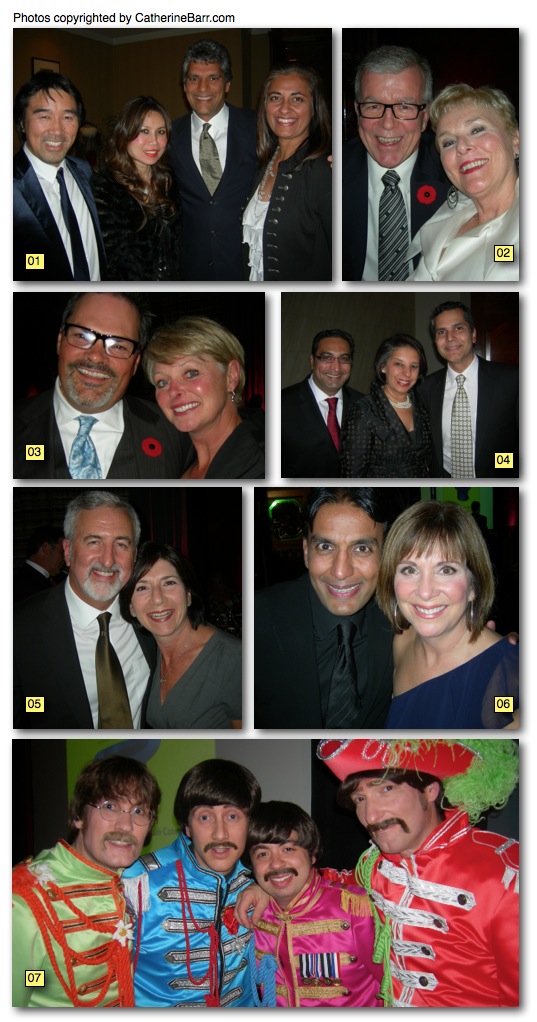 01 – West Vancouer's Graham and Angela Lee, left, socialize with Amin and Nermin Karim during the champagne reception.
02 – It was so nice to meet John and Linda Davidson and to share a table with them during dinner.
03 – Former World Cup freestyle skier Randy Bartsch and wife Patsy are among the distinguished guests at the gala.
04 – Making the trip from the North Shore for this gala night are Karim Chandani, left, with Stittgen jewellery store owners Selina and Mobeen Ladak.
05 – Seen here with wife Brenda, Amica Helping Hands chair Colin Halliwell points out a serious reality. "More and more seniors are having to turn to local food banks, agencies and programs such as ours."
06 – Amica owner Samir Manji cuddles up to Global BC TV news anchor and event MC Deb Hope.
07 – With sets and songs that range from the early years to the Sgt. Pepper years, the members of the Fab Fourever Beatles tribute band had everyone dancing and singing along.
– – –
By Catherine Barr – Nov 2, 2011
Also as seen in print in the North Shore Outlook Newspaper on Nov 17, 2011
– – –

– – –