The holiday gala season would not be complete without The Arthritis Society's 2011 Bluebird Gala. Sponsored by Scotiabank the gala style cocktail reception raised over $120,000. Entertainment for the night included music groups "LesIsMore" and "Van Django". Comedian Patrick Maliha had everyone giggling as he sported a "Movember to remember" moustache for extra effect. Also last month, Canadian journalism icon Allan Fotheringham held a special private reception for friends and family for the launch of his newest book – a collection of memories entitled "Boy From Nowhere – A Life in Ninety-One Countries". With some tell-all secrets from the past, and a warning for the future, this book is a must read.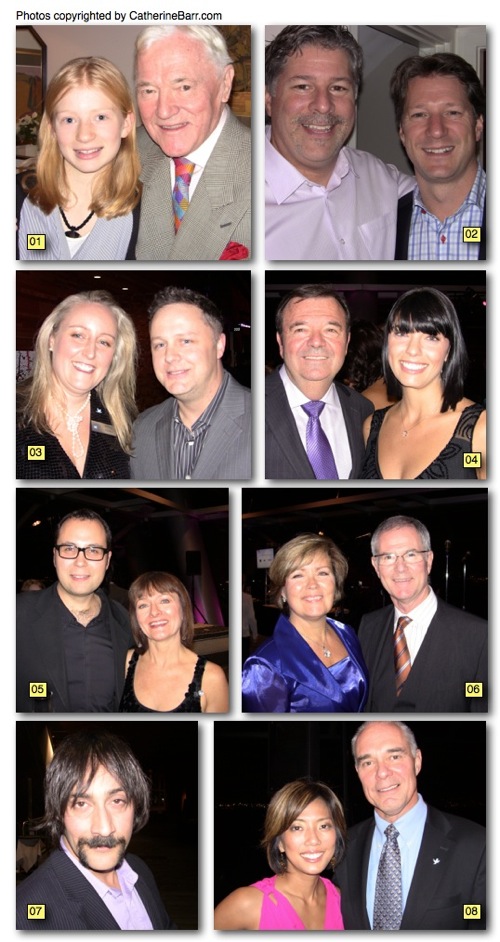 01 – Allan Fotheringham, aka. Dr. Foth, is surrounded by family and friends for the launch of his newest book of memoirs. Seen here with granddaughter Quinn, he presents a special book to each of his grandchildren.
02 – Also in attendance at the Allan Fotheringham book launch are son-in-law Bill Juhasz, left, and son Kip Fotheringham.
03 – Nancy Roper, executive director The Arthritis Society, BC & Yukon Division, chats with Michael Leland, communications manager, as guests arrive for the gala.
04 – David Poole, Scotiabank senior vice-president BC & Yukon region, and Michelle Henderson, Scotiabank manager community engagement, are generous sponsors of this evening's Arthritis gala.
05 – Musical entertainment for the Bluebird Gala is provided by LesIsMore, featuring Curtis DeBray, left, and lead singer Leslie Harris.
06 – Looking stunning in an elegant "bluebird" gown, North Vancouver's Brenda Manlove accompanies media executive hubby Brent to the gala reception.
07 – Don't worry, comedian Patrick Maliha's "Movember" moustache is supposed to look funny. He got extra mileage out of the facial prop during his hilarious segment at the Bluebird gala.
08 – Bluebird gala MC and GlobalBC TV news anchor Sophie Lui checks out the auction bids with Board of Director's chairman Drew McArthur.
– – –
By Catherine Barr – Nov, 2011
Also as seen in print in the North Shore Outlook Newspaper on Dec 8, 2011
– – –

– – –