Sometimes it's hard to decide if we're still in the gala season (end of November) or the start of holiday season (beginning of December). Either way, it really doesn't matter because with Christmas just around the corner, there's still so many events to talk about. And whether you're raising money for your cause or remembering to donate for the season, please remember to give generously. Let's take a look back at a few great faces from last week.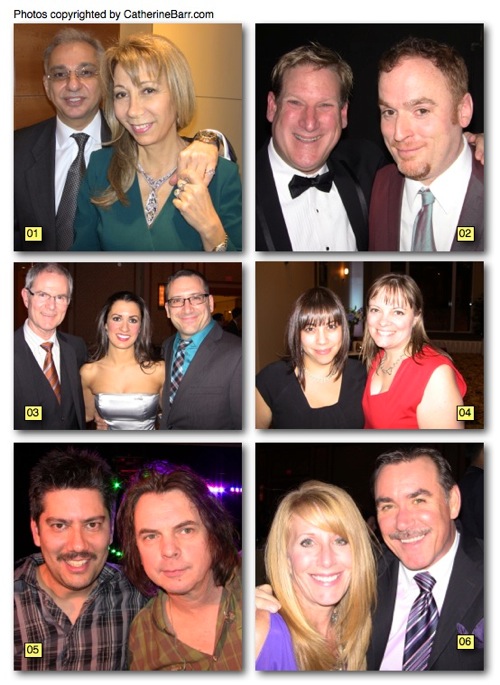 01 – Lugaro jewellery store owners Steve and Clara Agopian proudly show off the rare 28.96 carat "Canoe" necklace at their recent store event. Crafted of Canadian diamonds, the necklace was worn by actress Marcia Gay Harden at the 2012 Academy Awards. Hey Santa Baby …
02 – Penthouse Nightclub owner Danny Filippone, left, and author/musician Aaron Chapman, both from North Vancouver, are all aglow at the star-studded book launch of "Liquor, Lust and The Law" (Arsenal Pulp Press). This history of the legendary lounge is not to be missed and would make a great stocking stuffer. Check out all the party action on video online on our website (www.northshoreoutlook.com).
03 – North Vancouver's Brett Manlove, left, joins Renaissance Hotel GM Roman St. Germain and the beautiful Shante Sidhu at the All That Glitters Gala in support of The Crohn's and Colitis Foundation of Canada (CCFC).
04 – Crohn's and Colitis Foundation of Canada's Maureen David, left, and Alison Obrecht deserve a round of applause for pulling off a spectacular gala night at the All That Glitters Gala.
05 – Rock stars Dave Genn, left, Neil Osborne and the entire 54-40 band put on an amazing VIP concert for guests attending the All That Glitters gala. Thanks guys, you sound as good as ever!
06 – Looking perfect in purple, North Vancouver's Bridgitte Anderson attends the All That Glitters gala with the always debonair David Scott.
– – –
By Catherine Barr – Dec 1, 2012
Also as seen in print in the North Shore Outlook Newspaper on Dec 6, 2012

– – –