Hollywood A-Listers Robert Carlyle (The Full Monty, Trainspotting, Hamish Macbeth) and Ginnifer Goodwin (Walk the Line, He's Just Not That Into You) headed up a local star-studded cast last weekend at the Sutton Place Hotel for an elegant and magical gala that touched the heartstrings of all who attended. The "Once Upon a Cure" event (which was based on the newly produced TV series "Once Upon a Time") was created by North Vancouver's Deb and Ryan Purcell. Their son Trey suffers from an extremely rare disease known as Hunter Syndrome (MPS II). In an effort to raise money for a cure, Ryan Purcell called on his fellow movie/TV industry friends to come on out and lend their star power in support. West Vancouver's elegant Amanda Tapping, best known for her roles on TV's "Stargate" and "Sanctuary" series, was only too happy to act as spokeswoman for the cause which raised over $90,000 at this first annual event.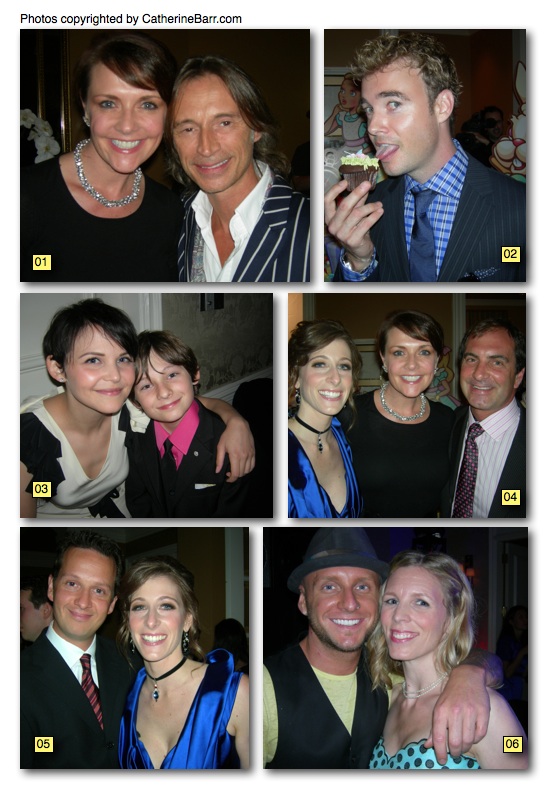 01 – You've seen him as a drug thug in "Trainspotting", as a villain in James Bond's "The World is Not Enough", and in the nude in "The Full Monty", but Glasgow born actor Robert Carlyle, seen here with gala spokeswoman/actor Amanda Tapping, is easily one of the nicest people I have ever met and completely charming in every way.
02 – Caught with his hand in the cookie jar, or in this case cupcake jar, "Sanctuary" actor Robin Dunne gets a taste of the wonderland gala theme.
03 – She received high praise for her work opposite Reese Witherspoon and Joaquin Phoenix in the Johnny Cash biopic "Walk the Line", but this night, actress Ginnifer Goodwin cuddles up to a new man – namely 11 year-old "Once Upon a Time" actor Jared Gilmore.
04 – Looking beautiful in blue, North Vancouver's Deb Purcell, left, welcomes leading lady Amanda Tapping and her leading man – husband Alan Kovacs.
05 – "With a rare disease, a little money goes a long way." Speaking at the podium, Ryan and Deb Purcell deliver a poignant yet tender reminder that life is something to be treasured at all times.
06 – Radio personalities Kid Carson and Amy Beeman, from The Beat 94.5, help out with the MC duties and auction announcements throughout the night.


– –
By Catherine Barr – Sep 24, 2011
Also as seen in print in the North Shore Outlook Newspaper on Sep 29, 2011