It's been 11 years since the Athletic for Kids (A4K) group got together to put up their dukes to raise money for youngsters to play sports. And with ever increasing costs, more and more families have been reaching out for assistance. This year the board was back with its Las Vegas themed gala at Hollyburn Country Club in West Vancouver where invited guests and VIP athletes were treated to a night of cocktails, prizes, auction items, a gourmet dinner and the main event – a five round sanctioned boxing card that featured an exhibition match by rookie fighter and ex BC Lions star Sean Millington.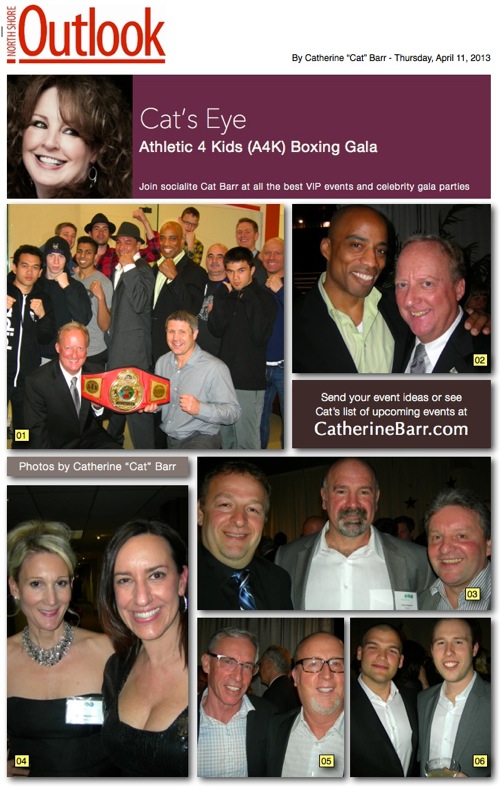 01 – Getting ready behind the scenes with the fighters and holding up the coveted big belt are board member Craig Knapton, left, and fight night coordinator / former Olympic boxer Manny Sobral.
02 – Athletics for Kids past-president Craig Knapton, right, welcomes former BC Lions Sean Millington to the ring for his exhibition boxing debut. Don't worry ladies, he's still looking good even after taking a few punches.
03 – Athletics for Kids board member and former Vancouver Canucks hero Dave Babych, centre, chats with guests Chris Gray, left, and Barry Pynn before the dinner starts.
04 – Making sure all the feathers and sequins are in place for a perfect Vegas night are A4K director Kimberly MacAulay, left, and PR pro Pamela Buck.
05 – Sitting ringside with their doctor duties this night are Dr Jim Hunter, left, and Dr Marc Boileau.
06 – It's a true boy's night out as guests Adam Wicks, left, and Andre Boileau can tell you complete with Vegas showgirls, steak dinner and live action boxing.
– – –
By Catherine Barr – April 5, 2013
Also as seen in print in the North Shore Outlook Newspaper on April 11, 2013

– – –