It has been an eventful holiday season with events almost every day here on the North Shore. Charity luncheons, gala evenings and lights, lights, lights everywhere you look. Here's hoping you and your family shared in some of these great times and even though Christmas Day is over, there are still lots of activities and events still going on in our neighbourhoods. Don't forget to take in some of the fun and carry the good cheer with you into the New Year. Happy Holidays and Merry Christmas. Can't wait to see you all again in 2013!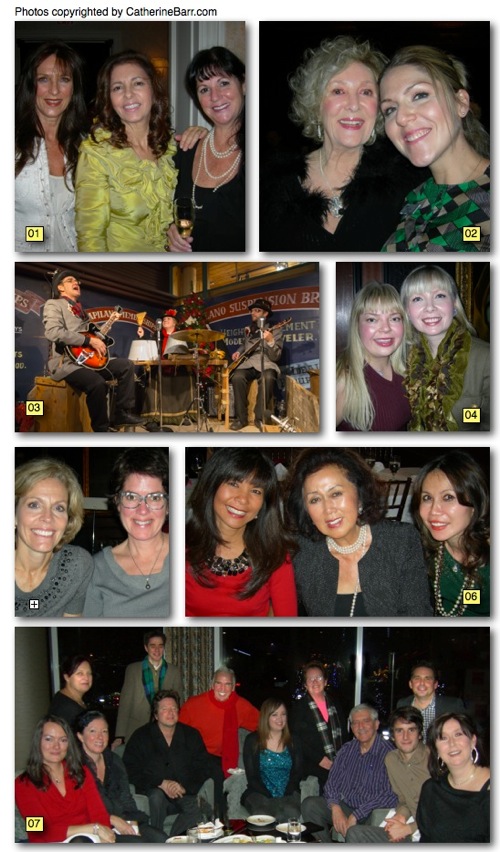 01 – Raising money for the Boys and Girls Club of Vancouver with a "Reach for Outer Space" Children's Christmas Party, Bianca Fusco Zanatta, centre, hosted her 11th Annual Ladies Luncheon with fabulous friends like "Housewives" guest star Lisa Macdonald, left, and West Vancouver businesswoman Lenora Gates.
02 – Delivering holiday necessities and more, the dynamic Diane Forstyhe-Abbott, left, teamed with YWCA events manager and North Vancouver singer/songwriter Tamara Hung to host the 18th Annual Crabtree Ladies Luncheon.
03 – A little night music – and a lot of lights. There's still a lot of action happening up at North Vancouver's Capilano Suspension Bridge for the Canyon Lights festival. Running until Jan 5, be sure to take in the gingerbread cookie decorating, glass ornament blowing and dance to the Holiday Band. Oh yeah, did I mention the LIGHTS!
04 – West Vancouver socialite Alexis Palkowski, left, and Yvonne Zawadzki, General Manager of Birks Vancouver team up at the Crabtree Luncheon event.
05 – A busy Christmas season didn't stop Lisa Lancaster Kershaw, left, and Victoria Mendes from coming out to lunch with the gals as part of the Crabtree Luncheon event.
06 – West Vancouver's always elegant Lee ladies brought their holiday spirit and chequebooks to the Crabtree Luncheon to support the YWCA. From left: Carlotta, Lily and Angela Lee.
07 – No, they're not elves – but they do work hard all year long to bring you the best! Sharing some Christmas cheer with co-workers at the Pinnacle Pier hotel in North Vancouver are the staff and writers of The Outlook newspaper. Happy Holidays from the gang and best wishes for a very Happy New Year.
– – –
By Catherine Barr – Dec 20, 2012
Also as seen in print in the North Shore Outlook Newspaper on Dec 27, 2012

– – –