In October 1997, I spent the afternoon on the set of Leslie Nielsen's movie "Wrongfully Accused" and it was a blast. He was shooting his latest movie in West Vancouver. Back then I was a reporter for the North Shore News and spent the day in Lighthouse Park watching all the action.
The article, which has been reprinted below, was that week's front page cover story. It was written during a time when X-Files actor David Duchovny was said to be so depressed about Vancouver's rainy weather that he was leaving the city and the show for sunnier destinations.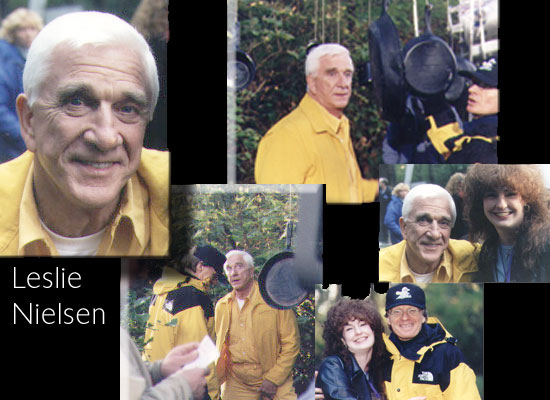 Nielsen is, without a doubt, one of the nicest people in show business. At 71, he was still doing some of his own stunts and clowning around even when the cameras stopped rolling. Director Pat Proft (see above) is also full of fun and I couldn't stop laughing.
The crew had been the target of so many of Nielsen's practical jokes during the course of filming that on this day, they decided to get their own back. They had ordered over 100 hand-held whoopie noise makers and every time you turned around, someone let one rip. I wish all movie set were like this one.
I have also met Nielsen several times since then and every one of them was memorable. Back in 2005 we dined together at the Vancouver Police Odd Squad Gala for which he was the host for the evening. Conversation with him was never boring as he is both intelligent and charming in every way.
Nielsen death was confirmed today by family living in Richmond, BC. He is reported to have died from complications due to pneumonia in a Florida hospital.
– By Catherine Barr
– – – News Archive – Reporter Catherine Barr – North Shore News  – – –
Eat your heart out David Duchovny. The last laugh belongs to Canada's own native son whose star continues to shine brighter than ever.
"I love this city", says actor Leslie Nielsen. "This is one of 'the' beautiful cities in North America."
The Canadian born actor / comedian was filming his latest movie this past week in West Vancouver's Lighthouse Park.
Nielsen took time out from his busy shooting schedule to talk personally with the News.
"Wrongfully Accused" is a spoof based on the popular movie "The Fugitive". Nielsen stars as escaped prisoner Ryan Harrison who has been 'wrongfully accused' of a crime he did not commit.
"It going to be a very good film", says Nielsen. "It's going to be filled with a lot of laughs and we're having nothing but fun."
The sexy senior, now 72 years old, still manages to command attention from some of Hollywood's most glamorous ladies. Kelly LeBrock and newcomer Melinda McGraw star opposite Nielsen and managed to get him into, and out of, a lot of on-screen trouble. Richard Crenna and Michael York also co-star.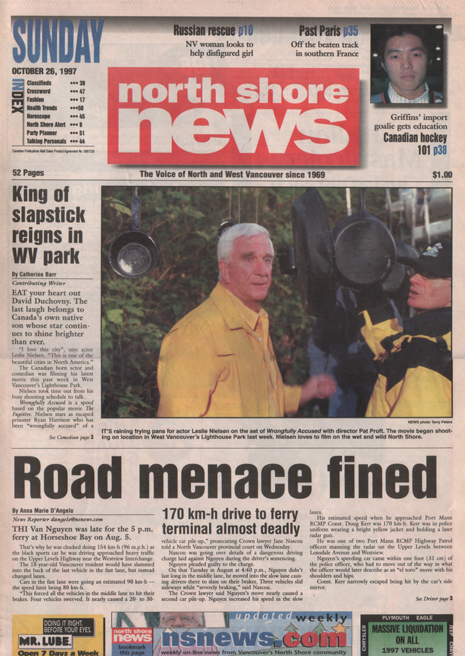 Nielsen, originally born in Regina, was raised in the Northwest Territories. He now calls Los Angeles home. He says, "L.A. is a strange city. It deals in isolation. And when you come from the north, isolation is nothing."
Even at his age, Nielsen still performs some of his own stunts and gags. After the interview, director Pat Proft put him to work.
"He's on the run here today as we're having him hit with some frying pans that are hanging in the way as he runs through the forest", says Proft as he sets-up for a take.
"Hitting his head, falling down, this is going to be Leslie Nielsen at his best", he says.
The veteran actor managed the scene in less than 6 takes and never once looked like he was running out of breath.
Director / Producer Pat Proft was thrilled. Proft, who also wrote the script, has helped create many of Hollywood's major comedy hits including the "Police Academy" and "Naked Gun" movie series.
"I've lumped together every Harrison Ford movie I could think about plus a bunch of other movies" he says.
Proft, also an experienced producer, says Vancouver is a great place to film a movie.
"I really like being here and I like the locations we've found. Right now everything seems to be working and I'm very pleased with it. And Canada let me hit a bus with a train — now where else would that happen?"
Executive Producer Robert (Bob) Rosen agrees.
"It's been great, for two reasons. One is that I rented a house in West Vancouver and I did (another film) as well as this picture, so I've been here forever. I'm part of the community now — I'm ready to vote."
Rosen has produced over fifty films including hits like "Little Big Man" which starred Dustin Hoffman and Vancouver's own Chief Dan George.
He had some extra advice for others who don't appreciate Vancouver's changeable weather.
"The weather has been cooperating like crazy with us. We had to manufacture our own rain. Will you pass that along to David (Duchovny)?", asked Rosen.
Nielsen, Proft and Rosen undoubtedly make a great team. They all recently finished filming Disney's "Mr. Magoo", right here in Vancouver.
Nielsen remains impressed with the region, especially West Vancouver. "This Vancouver is something else. It's just beautiful. You have forests here right in the city. And then there's the people, my fellow Canadians."
While filming a comedy can be a lot of hard work, Nielsen's good nature and natural humor have been infectious among the crew.
Nielsen is well-known for his practical jokes. His favourite gag is rumored to be the whoopie cushion — a prank he pulls with some . . . regularity.
But on this occasion, the crew of "Wrongfully Accused" is well prepared to fight back. Armed with over 140 hand-held noise makers, the group forces back giggles as they launch random 'whoopie' attacks on any unsuspecting passerby. Even as director Proft calls for a wrap, the star himself becomes a target.
Leslie Nielsen fans will not have to wait long to see him in action. "Mr. Magoo" is scheduled for release and "Wrongfully Accused" will be in theaters in May 1998.
– Catherine Barr – Written on: October 24, 1997 –